It's the first Sunday of the month, and that means I'm posting a humorous excerpt from another writer on the blog.  We can all use a laugh from time to time (I know I sure can).  This is an opportunity for all you mystery writers out there who like to write funny to share your work.  Today I'd like to welcome Molly MacRae, my first guest.
The Boston Globe says Molly MacRae writes "murder with a dose of drollery." Molly is the author of the award-winning Haunted Yarn Shop Mysteries from NAL/Penguin and the stand-alone mystery novels Lawn Order and Wilder Rumors. Her short stories have appeared in Alfred Hitchcock Mystery Magazine since 1990 and she is a winner of the Sherwood Anderson Award for Short Fiction. After twenty years in upper east Tennessee – the setting for her stories, short and long – Molly and her family live in Champaign where she connects children and books at the Champaign Public Library.
Molly's Excerpt from Knot the Usual Suspects:
Bombing Blue Plum—yarn-bombing it—had been Thea Green's idea. Thea, in addition to being an active and avid member of TGIF, was the director of the J. F. Culp Memorial Library—Blue Plum's public library with a name almost longer than the sign for it on the lawn in front of the building. Thea was constantly looking for ways to engage more teenagers and twenty-somethings in library activities.
"It wouldn't hurt to shake up TGIF, either," she'd said back at the beginning of September during a meeting of the TGIF challenge knitting group known as Fridays Fast and Furious. We were furiously working to meet our goal of knitting one thousand baby hats for newborns by the end of the year.
"We might actually get a few bodies younger than geriatric to join," Thea had said that afternoon. "Yarn bombing is cutting-edge stuff—or it would've been if we'd done it a few years ago. What could possibly be cooler than fiber graffiti? And it ties in perfectly with Handmade Blue Plum next month. And the kids will be out of school for the fall break with time on their hands. We can leave fun fiber surprises all over town for the visitors to find and enjoy. It'll be like a knitting and crochet scavenger hunt. And it'll help clear out everyone's stash closet. If we start now, we'll have time to prepare. It'll be exciting. Edgy, even, depending on how we do it, and if you think this town can handle edgy. And if we do it, we can still claim to be on top of the wave, because yarn bombing's never been done around here before. What do you think?" In her excitement, Thea stood up and waved her knitting needles so that she was in danger of losing stitches.
"Step over here and call me geriatric. That's what I'm thinking," Mel Gresham said. Mel and Thea were only a few years older than me, putting them in their early  to mid-forties. Mel, with spiked lime-green hair, was slicing the tunnel of fudge cake she'd brought for refreshments, and she still held the knife.
"Are we geriatric?" Ernestine O'Dell—seventy-something—turned to John Berry—eighty-something. "Except for my eyesight, and a few more pounds, and a touch of stiffness first thing in the morning, and the occasional memory lapse, and shrinking an inch or two, and, of course, the white hair and wrinkles, I don't feel any different than I did at fifty. And one of my great-grandchildren told me they aren't wrinkles anyway. They're 'life experience lines.' 'Geriatric' doesn't sound as nice as plain old being old."
"I like the words 'spry for his age' better than 'geriatric,'" John said, "as long as they aren't on my gravestone."
Thea interrupted a growl coming from Ardis. "Relax, Ardis. And, Ernestine, you're fine the way you are. John, I know you can dance jigs around me. I was just making sure I had everyone's attention. Let me show you some pictures and everyone will feel better."
She'd brought her laptop and she set it up in front of Ernestine. Ardis, John, Joe, and I put down the baby hats we'd been working on, and Mel laid down the cake knife. We gathered behind Ernestine while Thea showed us two or three dozen photographs of yarn bombing projects from around the world that she'd gleaned from the Internet.
Zealous and imaginative people had created cozies for fire hydrants, car antennas, mailboxes, and bollards. They'd crocheted bikinis for nude statues and given others leggings, hats, ties, and warm sweaters. Whole avenues of trees wore garter-stitched stripes. A tree in California had turned into a giant blue knitted squid. Bike racks had become snakes and hungry caterpillars. Lampposts put on socks and grew bird and monster feet overnight. Potholes and cracks in sidewalks were filled with coils and loops of yarn in intricate, multicolored patterns. Bicycles and whole vehicles were covered in rainbows of knitted and crocheted panels.
"What do you think?" Thea asked again, after the last picture.
"About practicing anarchy in downtown Blue Plum?" Joe asked. "Using knitting needles and crochet hooks?"
"That's the general idea," Thea said. "You can do macramé, if you want. Weaving, tatting. Cut up old sweaters and use the pieces. Tie giant trout flies and hang them from the trees. That would look incredible. Are you in?"
"Sure." Joe handed her a piece of Mel's tunnel of fudge. "I'm hooked."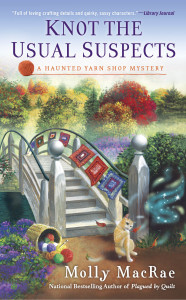 The book comes out Sept 1 andf is available for pre-order now.
Buy Links:
Independent bookstores
http://www.indiebound.org/book/9780451471314
Barnes & Noble
http://www.barnesandnoble.com/w/knot-the-usual-suspects-molly-macrae/1121064920?ean=9780451471314
Amazon
http://www.amazon.com/Knot-Usual-Suspects-Haunted-Mystery/dp/0451471318/ref=tmm_mmp_swatch_0?_encoding=UTF8&sr=&qid=
Thanks for visting, Molly.
If any of you would like to share a humorous excerpt from your book on this blog, please get in touch with me.  I post excerpts the first Sunday of the month.