A Sporting Murder, the third book in my Eve Appel mystery series will be released by Camel Press in July, but you don't have to wait that long to read about Eve and her friend and business partner, Madeleine Boudreau.  There are three short stories about Eve and Madeleine available now on Kindle for $0.99 each.  You can read about how the two gals met as well as tales about their early sleuthing adventures.  If you loved Eve and Madeleine and wondered about their friendship, here's a chance to find out how this unlikely duo got started.  If you haven't yet taken the opportunity to read about their adventures as consignment shop owners/amateur snoops in rural Florida, you can introduce yourself to the series in these stories.  Here's the scoop:
Story #1  The Little Red-headed Girl is My Friend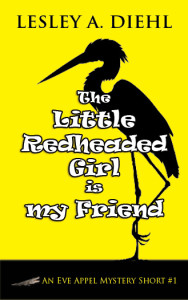 Eve Appel was an original long before she bought her clothing consignment store in rural Florida. After her parents are killed in a boating accident, she goes to live with her grandmother, "Grandy," in Connecticut. Already a trendsetter, Eve is also taller and braver than most of her grade school classmates. It isn't long before she meets the girl who will become her best friend—Madeleine. Petite and redheaded, Madeleine is clumsy but no pushover. Together they foil bullying students, bigoted teachers, and when they reach high school, the class lech.
While still in college, Madeleine and Eve seize the chance to tackle their first mystery. Their neighborhood drugstore is the target of a shoplifter, and naturally the local young people are suspect. That means they and their friends can't shop there anymore without security dogging their every step. After solving the case and settling an old score at the same time, Madeleine and Eve are left with a serious taste for sleuthing.
Buy Link:
http://www.amazon.com/Little-Redheaded-Friend-Appel-Mystery-ebook/dp/B00VKRU7LY/ref=pd_sim_sbs_kstore_3?ie=UTF8&refRID=0N39YTKFAK7KFFFZR85W
Story #2 Thieves and Gators Run at the Mention of her Name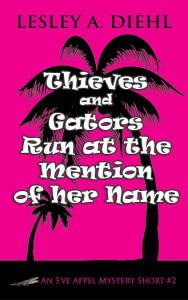 Fed up with her cheating husband, Eve Appel decides to leave her home in Connecticut and join her friend Madeleine in Sabal Bay, Florida, as a partner in a consignment shop. But Eve is not prepared for rural Florida, with gators constantly underfoot, scrubby palm trees, and swamp and prairie as far as the eye can see. No sooner have they unlocked their new storefront when someone tries to break in. What is the thief after, they wonder, when all that's in the store are naked mannequins and dress racks? As usual, Eve is ready to tackle the mystery head-on, with Madeleine dragged reluctantly behind.
Buy Link:
http://www.amazon.com/Thieves-Gators-Mention-Appel-Mystery-ebook/dp/B00VKSQ72G/ref=pd_sim_sbs_kstore_2?ie=UTF8&refRID=0PMQJZWCBR4ZP2Q1VH3W
Story #3 Gator Aid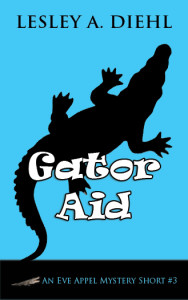 Eve Appel and her best friend Madeleine run a consignment shop together in rural Florida. Madeleine is also an author, and now she wants to switch from writing children's books to mystery novels. So she drags Eve to a writers' conference, hoping her friend will bolster her confidence during her big pitch to an agent. It soon looks as if Eve isn't going to make that appointment. A case of mistaken identity results in her agreeing to pose as the person she has been mistaken for. It doesn't hurt that the special agent assigned to the case is a hunk. When his plan to keep her from harm goes awry, Eve finds herself in the trunk of a car, en route to the swamps, where the hungry alligators await their dinner.
A version of this story won the 2009 Sleuthfest Short Story Contest, sponsored by Mystery Writers of America, Florida Chapter.
Buy Link:
http://www.amazon.com/Gator-Appel-Mystery-Short-Book-ebook/dp/B00VKSQD0M/ref=pd_sim_sbs_kstore_1?ie=UTF8&refRID=08Z1TVS6QX5715GH2SFX
Let me know if you'd like more short stories about Eve and Madeleine or perhaps about Eve and one of the other characters in the series. Which character would you like to know more about?