I began writing fiction with a book length cozy mystery, and that continues to be where I invest most of my writing time today. However, the first award I won was for a short story, and it was the first one I'd ever written. I submitted it to the short story contest sponsored by Mystery Writers of America, Florida Chapter for their Sleuthfest Short Story Contest. I won in 2009. At that time, the number of entries was small, but now the contest gets national attention.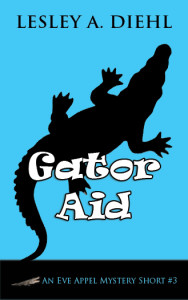 The protagonist in that story entitled "Gator Aid" became the protagonist for my Eve Appel Mysteries published by Camel Press. Camel also published that short story along with two others featuring Eve Apple and her BFF, Madeleine Boudreau, business partners in a consignment shop in rural Florida. I love writing the series, but I must admit that first story got me hooked on writing short stories. What I love about them is they force the writer into writing spare. Each word, each sentence counts. Character development must take place in several sentences, and the plot must be tight.
It some ways I feel more challenged by writing a short story. Many of them I've written such as those featuring Aunt Nozzie and the grandmothers have word limits. Can I create a plot with twists and turns within the word limit? For the Aunt Nozzie stories published in the Thanksgiving anthologies published by Untreed Reads, the limit is 5000 words. Aunt Nozzie is a big woman, tall, sizable and giant in personality. Can she fit into those limits? She seems to do very well, so well that I decided to she deserved more words, so I took on a novella for her when I was offered a slot ("Bobbing for Murder" in Happy Homicides: Fall into Murder published by Spot On Publishing last fall. Joanna Campbell Slan and Linda Hengerer have edited several of these seasonal themed anthologies of cozy mystery stories and novellas.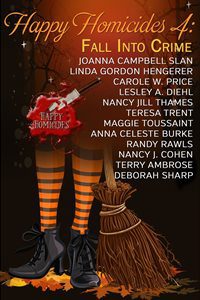 I was delighted to be included in the Halloween one along with a number of other cozy mystery writers. The novella gave me 15,000 words to devote to the antics of this crazy aunt and the two grandmothers who accompany her on her zany exploits. While the word limit still meant I had to write tight with respect to plot issues, it gave me more latitude to explore Aunt Nozzie's love life and that of the narrator, her smart and infinitely patient niece, Darcie.
The novella does not afford the writer the same luxury to take on as many subplots as a book length work does, but it does create the opportunity to flesh out characters and introduce new ones (as if Aunt Nozzie needed more flesh, character wise). I had fun writing it, and would do another one at some point. Both the short stories and the novella lend themselves to writing exercises that use a theme such as Thanksgiving (the Untreed Reads anthologies are entitled The Killer Wore Cranberry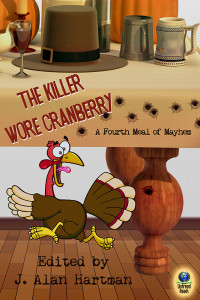 and focus on the Thanksgiving holiday and what can go wrong at dinner. Similarly, the autumn anthology was themed around Halloween. It was a perfect holiday for Aunt Nozzie and the grandmothers to use their creativity to dress up for a party, although I sometimes think they dress up on an everyday basis given one of the grandmother's choice of clothes.
Of course it's not necessary to create short stories or novellas for a particular theme. I have written a number of short stories some published by Untreed Reads, others in on-line magazines such as King's river Life. Some remain on my computer looking for the right home, perhaps my own anthology of short stories. I also find that taking on a short story for no reason particular is an excellent way to hone my skills in developing characters and creating plots. It also can be a therapeutic break from the book length work. The brevity required means the writer must do this without frills, but in a compelling fashion keeping the tension in each paragraph, creating sympathetic characters, laying out reasons for a character to get involved in solving a crime, allowing the protagonist to grow, putting her in harm's way and reestablishing order in the protagonist's world by tracking down the villain. All the elements of a good cozy mystery are required. The writer just has fewer, far fewer, words to use in accomplishing the same end.
Do you like to write or read short stories or novellas? What works for you in these shorter versions of the mystery story?
For information about my short stories and my novellas, here's where to go:  http://lesleyadiehl.com/short-stories