How serendipitous that Paty Jager should be visiting today with a blog about unnecessary words at the same time I'm struggling with final edits on a manuscript. My editor writes so cleanly and elegantly. I don't. Paty reminds us that word clutter weakens our writing.  It's a reminder I need every now and then. Maybe I could hire her to look over my shoulder when I write and yell at me when I use the word "just" so often. Maybe you have your own favorite "clutter" words.
Word Clutter…or is it? By Paty Jager
When writing a book, I like to make the characters sound individual through their dialog and even in the narrative in their point of view (POV).
There have been times over the years when an editor suggested I take out a word that they felt was repetitive or not needed. I always looked at the sentence and why I used the word. Did I toss it in without thought or did I put it in and leave it through edits because it was intentional? Sometimes I hadn't thought about it and took it out, but when it was intentional to make the way it read go deeper into the character's POV, I left it.
After a software update on my computer, I'm noticing more words being underlined in blue. Words the program feels are unnecessary to the story. As with suggestions by editors, I stop and run the sentence through my head and look at the POV and decide if it is unnecessary or if it shows my character in a distinct way.
Some of the words that can be left off if you don't have a specific reason to use them are:
Seemed
Began
Tried
Very
Pretty- as in pretty good ( I have a lot of these and others like them in one character's POV and that's what I want to distinguish if the reader picks the book up in the middle of the scene they will know whose POV they are in by the way the narrative reads.)
They weaken what you're trying to say. I mean what you want to say.  Also, redundant words take up space without conveying anything new.
Examples:
The clean masculine smell of him seemed to surround her.  Better:  The clean, masculine smell of him surrounded her. (Seemed makes it sound as if she is unsure if the scent is surrounding her)
He stood up as the band began to play. Better:  He stood as the band played. (It is implied he is up because he stood. There is no other way to do it. Began while is correct, it is passive which slows the flow.)
"That was a good deal," he thought to himself. Better: "That was a good deal," he thought.
In the case of the above sentence there is only one person who can hear his thought—him. It's redundant to say "to himself." There has also been a movement to put this type of sentence in italics and not give it a tag. It's said that by putting it in italics it takes the reader deeper into the character's POV and it isn't necessary to tell them who said it.
In my Shandra Higheagle mystery series I use two points of view. Shandra Higheagle, the female amateur sleuth, and Detective Ryan Greer. Because I want the readers to be able to see the story through their two different sets of eyes and emotions, I am always careful to use certain wording while in Shandra's viewpoint and different while in Ryan's. That, and the weaving of the mystery, makes writing these books a lot of fun.
Do you like one point of view in a book or multiple points of view?
Yuletide Slaying
Book 7 of the Shandra Higheagle mystery series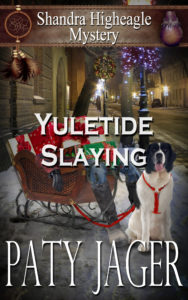 Family, Revenge, Murder
When Shandra Higheagle's dog brings her a dead body in a sleigh full of presents, her world is turned upside down. The man is a John Doe and within twenty-four hours another body is found.
Detective Ryan Greer receives a call that has them both looking over their shoulders. A vengeful brother of a gang member who died in a gang war is out for Ryan's blood. Shandra's dreams and Ryan's fellow officers may not be enough to keep them alive to share Christmas.
Buy Links:  Amazon / Nook / Apple / Kobo
Paty Jager is an award-winning author of 25+ novels and over a dozen novellas and short stories of murder mystery, western historical romance, and action adventure.  This is what Mysteries Etc says about her Shandra Higheagle mystery series: "Mystery, romance, small town, and Native American heritage combine to make a compelling read."
All her work has Western or Native American elements in them along with hints of humor and engaging characters. Paty and her husband raise alfalfa hay in rural eastern Oregon. Riding horses and battling rattlesnakes, she not only writes the western lifestyle, she lives it.
blog / website /  Facebook / Paty's Posse / Goodreads / Twitter / Pinterest