I have Morgan St. James as my guest this week, and she has some specific ideas about how to take the grisly act of murder and create out of it a funny mystery.  You'll be impressed with her background, her books and the work she has done for mystery writers.
Former interior designer, MORGAN ST JAMES lives in Las Vegas, is on the board of Writers of Southern Nevada and belongs to multiple writers' groups. In addition to the Silver Sisters series, she also collaborates with other writers in addition to writing her own novels and short stories. Morgan currently has 12 books and over 600 articles about the business and craft of writing in publication, with more slated for 2015. She frequently appears on the radio, author's panels and is an entertaining speaker. Published short stories include contributions to two Chicken Soup for the Soul books, many anthologies including the single author anthology The Mafia Funeral and Other Short Stories, . Her workshops are presented at writers' conferences, writers groups and other venues.
In November, 2014 she and true crime author Dennis N. Griffin launched the Writers' Tricks of the Trade Show with Morgan St. James on Blog Talk Radio, and she is also the publisher of the Writers Tricks of the Trade eZine.
As you can see, she is a very busy lady, so I'm delighted she could take the time t ovisit here and talk about what's so funny about murder.  Here's what she has to say about mirth and murder:
WHAT'S SO FUNNY ABOUT MURDER?
Morgan St. James
THE GREAT IDEA
At the time my sister Phyllice Bradner and I got the idea of creating a funny mystery series featuring a zany set of fiftyish silver-haired Mae West lookalike twins and their octogenarian mother and uncle, former vaudeville magicians, we were both published writers (but not in fiction). Newspaper and magazine articles for me and journalism for Phyllice. We decided that the twins dearly departed father had been one of the three great Harrys of magic—Harry Houdini, Harry Blackstone and Harry Silver. The twins had his powers of deduction and didn't go looking for trouble. Nevertheless, it always found them.
Although my tastes are more eclectic, from growing up in a zany family we both love funny mysteries. I tend to also love thrillers and political intrigues. Not Phyllice. She mainly likes funny mysteries. So if we were to collaborate, this book which was our first stab at fiction, would definitely be a whodunit and had to have some funny twists. The sleuthing characters also needed a combination of quirks and talent for solving crimes.
Enter the Silver Sisters, plus mother Flossie and Uncle Sterling Silver, and A Corpse in the Soup, a book that was named Best Mystery Audio Book by USA Book News and became the cornerstone for a new mystery series. However when plotting that first book, the quandary still remained—how to make the serious topic of murder funny?
WHAT WOULD MAKE OUR BOOK FUNNY?
We discovered that beyond the plot, humorous names added to the fun. Funny names eventually became one of the signature features in the Silver Sisters Mysteries. For A Corpse in the Soup we named our four chefs Caesar Romano, the Romantic Chef of the Flirting with Food TV show; Biff Wellington, TV's Aerobic Chef who exercised with chicken legs; Moishe Matsumoto, the King of Kosher Sushi, and Tolouse Jankowski, the Polish Cajun. One of them was going to wind up in the soup with a knife in his back, but which one? And how to involve the Silver Sisters in solving the murder? Would there just be one murder or more?
We added the venue of the internationally televised Greatest Gourmet Gladiators Tournament, an over-the-top cooking competition between celebrity chefs that out-Iron Chef'd the Iron Chef with its theatrics.
So, in my opinion, when making murder funny, the characters, surroundings and the unexpected twists play a big part. Our designed twists and turns were designed to keep the reader guessing while dropping subtle clues that led to a surprise ending.
As for our characters, the twins, Goldie Silver—an over-the-hill flower child who owns an antique store in Juneau, Alaska and believes everyone has good in them is a complete opposite of her identical twin Godiva Olivia DuBois. Godiva is a wealthy Beverly Hills widow who writes the syndicated advice to the lovelorn column, "Ask G.O.D.," (her initials) and is as selfish and manipulative as Goldie is good and giving. Add Flossie and Sterling, retired octogenarian vaudeville magicians who still entertain every Thursday at the Home for Hollywood Has-Beens with Waldo the Wonder Dog, who talks…sort of, and you have the ingredients for a funny murder mystery. Flossie and Sterling love to dress in disguise and go undercover, frequently getting into trouble, despite Godiva's warnings to sit in the garden and smell the roses instead of butting in.
With those ingredients, it isn't that hard to make murder funny. Just add backfired schemes and investigations, scenes that are potentially dangerous but laced with humorous situations and the sisters occasionally taking potshots at each other because of their different personalities. And, of course, two adventurous 80-year-olds.
A FUNNY MURDER MYSTERY SERIES IS BORN
The fun carries through into the second book, "Terror in a Teapot," where they deal with the bumbling but dangerous Russian Dumkovsky brothers, and the upcoming "Vanishing Act in Vegas," laced with Vegas kitsch, a beautiful magician, and murders that confound everyone. The fourth book, "Diamonds in the Dumpster," is targeted for publication by the end of 2015.
To answer the opening question—what's so funny about murder—for me whether writing solo or with my sister, it is the characters and situations they get into when things don't go according to plan that lend an aura of laughter to an otherwise potentially grim plot.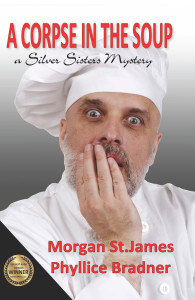 EXCERPT FROM A CORPSE IN THE SOUP
Manicotti's face turned beet red. "He's where? He's what? But that can't be. He's a Gourmet Gladiator. He's due on stage at the Kitchen Coliseum in ten minutes. We can't hold up the show for him."
"You don't understand Mr. Manicotti," he squeaked. "The man is dead as a mackerel.   D-E-A-D. He can't come to the Kitchen Coliseum, he can't cook on your show, and he's not goin' anywhere except the morgue."
Large patches of sweat appeared on the producer's shirt. His eyes bulged and his mouth opened and closed like a carp out of water. "You're sure? You touched him? He's dead?"
"Yes, Sir. I'm still on his set. I'm about to call the police, the medics, the swat team, the FBI, I don't know what all. I've never seen a corpse in a soup bowl, ya know."
Manicotti's massive jaw went slack. "Wait, Hal," he shouted into the phone. Then, looking around, he cupped his hand over the receiver and lowered his voice. "I've got an idea. How would you like to make a cool ten grand? Under the table, right now?"
"What are you talking about, Boss? I gotta get off the phone and call the cops. What do you want me to do?"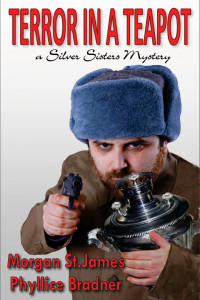 A CORPSE IN THE SOUP http://www.amazon.com/Corpse-Soup-Sisters-Mystery-Mysteries-ebook/dp/B00KHED6HI
TERROR IN A TEAPOT http://www.amazon.com/Terror-Teapot-Sisters-Mystery-Mysteries-ebook/dp/B00PRHKHBI
Visit www.morganstjames-author.com
http://morganstjames.blogspot.com
http://silversistersmysteries.blogspot.com
http://writerstricksofthetrade.blogspot.com
If you want to read more of her work, go here: Read 3 chapter "page-turning" excerpts of A Corpse in the Soup and Terror in a Teapot