It feels like fall is here and I haven't had time to enjoy the summer.  Or have I?  There are lots of ways to enjoy the season.  I guess I chose the writer's way.  Here are three reasons why I feel good about my summer:
Number 1
Look what seven crazy mystery writers have done: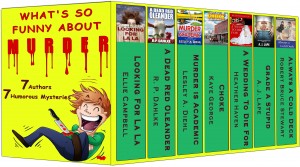 We got together and came out with a boxed set of seven humorous mysteries.  What's so crazy about that?  It's only 99cents for all seven!
Buy now and you've got reading forthe remainder of your summer.
http://www.amazon.com/Whats-Funny-About-Murder-Mysteries-ebook/dp/B00N038P1K
I'm inviting all of the authors from the boxed set to visit my blog in the next two months.  Next week I'll feature Rebecca Dahlke to talk about why she likes to write humorous murder mysteries.
Number 2
Murder Is Academic is coming out as a POD in the next few week.
Number 3
I have submitted three short stories about Eve Appel to my publisher and I'm working on proposals for three additional book length Eve Appel mysteries.
Did the summer pass too quickly for you?  What projects have you completed?  Are there more to do?Whew!  I need a vacation!