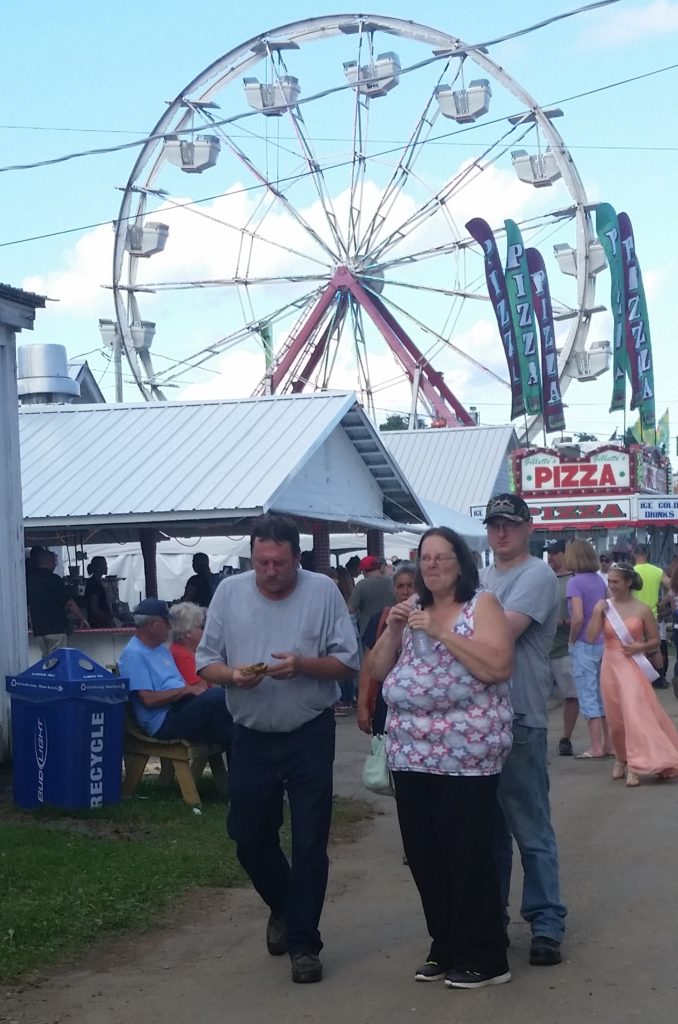 It's the end of summer and time for county fairs. See that ferris wheel in the picture above? I rode on one only once in my life. I'm not one for heights or for that feeling you get in your stomach when the wheel descends.
County fairs are about more than the rides. They're also about food, the kind of food you can't get anywhere else–fair food, filled with sugar, fat and lots of other carbohydrates. As I kid I looked forward to two things at the fair, the food and the games of chance.  Cotton candy was a treat, but something I sometimes regretted eating. It had no taste beyond that of sugar. It was puzzling how to eat it. Did you grab a bunch of the fluffy stuff and push it into your mouth or did you bite it off the paper cone? Either way you ended up with a sticky mess on your hands or your face. But you had to have it because you only got the chance to eat it once a year. And then there were corn dogs. Those only came at at fair time also. And do you remember root beer floats? The county fair here has a vendor with old-fashioned Richardson's root beer floats.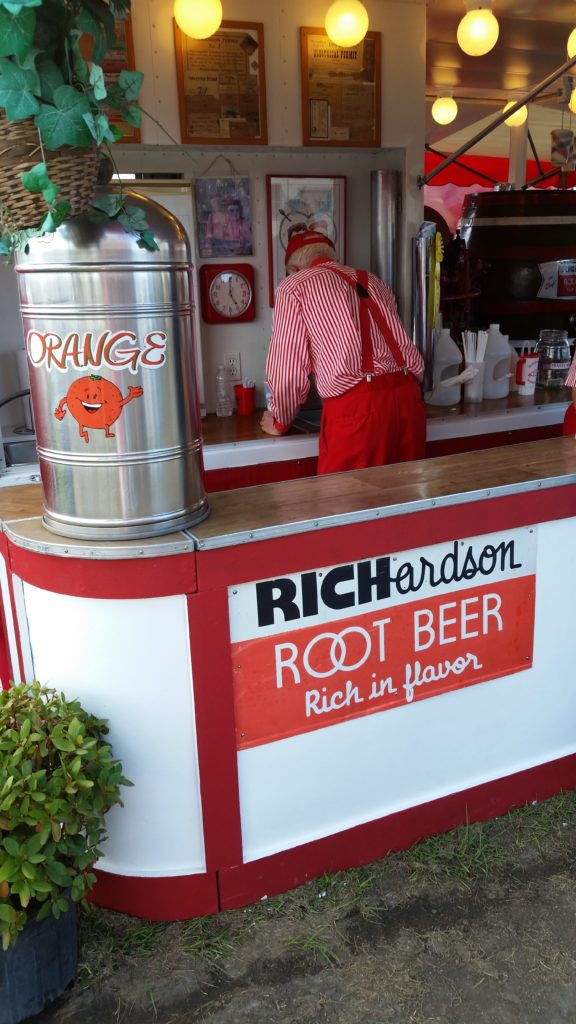 As for the games of chance, I did them rarely and mostly the simple ones like picking a duck out of the water. There was a number on the bottom that told you what prize you won. I never got anything I wanted. My prizes included some alum gum that made your lips pucker when you chewed it and a pack of gum with one stick out farther than the others. When someone took the stick, it released a spring which hit the person on the finger. I'd never seen these "prizes" anywhere else, so I was pleased, but each year hoped to win something better.
The county fair where we live in Upstate New York is mere steps down the road, so we go each year. On Tuesday of fair week, we sit out back by our stream and watch the fireworks. The cost to get into the fair the first day is only a dollar each, so that's the day we decided to explore what the fair has to offer and the day we also indulge in "fair food." Our favorite fair fare is pulled pork on a baked potato. The booth offering the pork has the cutest sign out front.
This year we decided to try something new for our dessert. We've both eaten fried dough with sugar and cinnamon, so we tried something unusual–deep fried oreos. They were surprisingly good and, of course, filled with sugar and fat. Oh, yummy!
I'll be back next week with more fair memories and some pictures of my favorite thing at the fair–the animals. I took so many pictures I want to share with you.
Meantime, please share some your fair memories and favorites.
Coming soon. The release of the newest Eve Appel mystery. And a big surprise at the end of the month, another Aunt Nozzie and the Grandmothers story.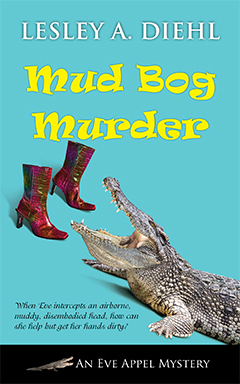 Release date is Sept 1!