Where do writers find their inspiration?  Judy Penz Sheluk looked at her town and found the heart of a cozy mystery.
Judy Penz Sheluk's debut mystery, The Hanged Man's Noose (Barking Rain Press) was published July 2015. Her short crime fiction is included in The Whole She-Bang, World Enough and Crime, and most recently, Flash and Bang, the first anthology published for the Short Fiction Mystery Society.
In her less mysterious pursuits, Judy works as a freelance writer/editor. She is currently Editor of Home BUILDER Magazine and Senior Editor, New England Antiques Journal.
Judy is a member of Sisters in Crime, Crime Writers of Canada, the Short Fiction Mystery Society, and International Thriller Writers.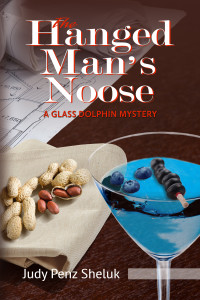 An amateur sleuth mystery with an edge, The Hanged Man's Noose brings together a freelance journalist, an antiques shop owner, and a greedy real estate developer in the historic community of Lount's Landing, where small town secrets, high stakes real estate wrangling and subterfuge lead to murder.
Here's what Judy says about using a serious issue in her work:
When I began writing The Hanged Man's Noose, I was inspired by what was happening in my own semi-rural community: acres and acres of farmland and forests being sold for massive housing developments and big box stores. True, the stores we locals frequented, and the homes we lived in, were standing on what was once farmland and forest. But no one really thinks that way, do they? I remember one developer telling me, "Sprawl is the house next to yours."
At the same time, I'd been reading about old schools that were being closed—either because the aging communities no longer had the required enrollment, or because it was simply too expensive to expand and modernize them. The school boards would then list the property for sale, and developers would purchase the land for what is known as infill development. The problem is, people tend to believe that the schoolyard, usually about four acres, is public parkland. Building houses over the old baseball diamond and swing sets is controversial, to say the least.
It made me wonder: What if a developer came to a small town, already in transition, and wanted to build a megabox store on the town's historic Main Street, a main street filled with local businesses, restaurants and owner-operated shops? That's the premise behind The Hanged Noose, but this type of situation doesn't just happen in small towns. Consider that not so long ago, Kensington Market, a community neighborhood in Toronto—a city of more than six million people—was being considered by Walmart as a possible location. After months of public outcry, the location was quashed for not only Walmart, but for any other big box retailer eying the same prime space.
Just how far will people go to stop unwanted development? In the case of Kensington Market, petitions and municipal council resulted in a loss for big box retailers without bloodshed. In the case of Lount's Landing, things get a little more murderous.
You can find Judy at www.judypenzsheluk.com where she interviews other authors and blogs about the writing life.
Find The Hanged Man's Noose at all the usual suspects, including Amazon.
Buy Link: Amazon  http://authl.it/3jg
Amazon author page: http://www.amazon.com/Judy-Penz-Sheluk/e/B00O74NX04
Link to Walmart story:
http://www.thestar.com/news/city_hall/2014/02/13/developer_backs_off_kensington_market_walmart_plan.html
Land use by developers is an interesting issue and one sometimes used in cozies.  Any of you use a spin on land development in your cozy mystery?