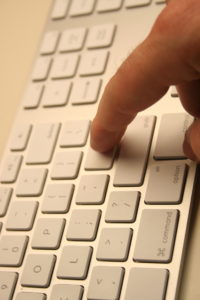 Note: I have not posted my blog for several weeks. My excuse is:
I'm lazy;
I'm overwhelmed with settling into the house here in Florida;
My computer is new and not used to me yet;
I'm a total idiot when it comes to a new computer;
Take your pick of the above.
I think it's a combination of all of them, but mostly I blame shifting from my old computer to this new one. I just need a computer that does email and that I can write with. Why can't I buy one of those instead of this one, so colorful with two screens and hidden on and off and word buttons. Here's the story:
The week before Thanksgiving my computer failed me. I knew it was sick and had tried a short-term fix by taking it into a computer service, kind of an urgent care place for computers. The fix provided got me to Florida where the machine became terminal.
Help is nearby
In the spirit of the season and because I'm committed to helping the local economy I determined I'd buy in this community, so while hubby went to his doctor's appointment, I got on the phone and called the ten or so places listed in the yellow pages under computers. Eight were out of business, but I was not discouraged. The ninth one was the only listing that displayed a large ad rather than simply a phone number. I knew I should have called this one first. I dialed and connected.
"'lo."
"Is the computer place?"
"Yah."
"I'm looking for a laptop."
"Don't got none."
Okay. I had one more place. A sleepy sounding woman answered and told me they didn't carry computers, but I could order one through them. Hubby and I paid them a visit. The woman at the desk sounded like the sleepy woman, now awake. I had researched computers on the internet and knew what I was looking for, and it was the brand they sold. Things were going nicely because she had the model I wanted (another customer's purchase, but she'd show it to me.) It was just what I was looking for. I was truly excited.
"How much is it?"
"I don't know. You'd have to ask the owner, and he's a working owner so he's in the field."
Now if you aren't acquainted with rural Florida, you might think she meant he's helping other customers at their homes. However, she probably meant he was out with his cattle.
"You can leave your phone number, and I'll have him call you."
"What about antivirus, office and other software. Do you install it for me?"
"You just bring it in here, honey, and we'll put it on there for ya."
"And if I have any problems?"
"You just call the manufacturer. They have great support."
"I read that. I meant what if I have some issues, do you have a computer tech on site here?"
"You call here, and I'll take care of all that."
I gave her my number and we left. That was five days ago. The owner hasn't called. He's probably stuck in the field because of some problem with his cows.
Help is only a short drive away
I think we suspected when we left the local place that we needed to find help elsewhere, so we drove the forty miles to the coast where I discovered the model computer I wanted was carried in no stores. I did find the brand I wanted in a store, and the young man there was helpful, so I bought the model they carried. Software? No problem? They could transfer my files, set up my email, install antivirus and other necessary software. I could have done a jig in happiness. But wait a moment. None of this could be done that day. I purchased everything I needed and, new computer in hand, I went to the store's service desk where some geek people would do everything to the machine necessary. I waited an hour to talk to another young man, equally helpful, who took my old machine and told me I would get a call when everything was completed. I left my new computer in his capable hands, having not yet touched it. It was still in the box.
Help will come in a few days
Two days later the store called. They had completed everything. All I had to do was set up an appointment and I could pick it up. The only time available was Saturday after Thanks giving.
Help will arrive after you've eaten a lot of turkey
I picked up both machines two days after Thanksgiving, was assured everything had been accomplished as promised and I carried my purchases home. Now to get started….
Help will arrive when you've figured out how to set up everything
I can only tell you that I went on line numerous times, punched in codes and passwords, changed codes and passwords, received several text messages with new codes, found none of the passwords I was given where I purchased the computer worked, went back to the internet to be given another round of codes, and finally got online. I then pulled up a document for editing and…it worked!
Help!
As I begin to write this blog, I can't find how to open a blank word document. Oh, good. Here's a video to help me do that. It says I should click on the word icon. But there's no such icon where it's supposed to be.  I can use the helpful Cortana. Nope. It takes another code and password and some other stuff to sign in to get her. I decide to work around her and the missing icon. I type "word" in the search bar and here I am writing my blog.
I'm going to post this now before something happens and it all disappears, and I'm forced to change yet more codes and passwords. Wish me luck.
Can anyone relate?