New! An Aunt Nozzie novella "Bobbing for Murder" in Happy Homicides: Fall into Crime
Short synopsis for the novella: Darcie hopes for the best when her grandmothers and Aunt Nozzie arrive for a visit in the autumn, but their past get-togethers have often resulted in gun shots, car chases and exploding sauces. The trio of trouble arrive in a motorhome filled with bushels of apples which her aunt intends to make into applesauce for transport and sale back home, and Nozzie insists they visit a nearby orchard to purchase more.
Her grandmothers take a shine to the man living next to Darcie, and at the orchard, Aunt Nozzie and the president of the college where Darcie teaches find companionship in a jug of cider. Love is in the air for everyone it appears, except for Darcie. Nozzie invites the president to a Halloween party at Darcie's house, a costume party where hiding behind a mask only ups the likelihood that something can go wrong. If the burgeoning relationship between the prez and her aunt doesn't go well, Darcie could lose her job, and the president might lose his life. Anything can happen when Aunt Nozzie and the grandmothers come for a visit and design their own Halloween costumes.
Aunt Nozzie and the grandmothers first appeared in the Thanksgiving anthologies, The Killer Wore Cranberry, Vols. 1-4 published by Untreed Reads. The author felt moving the trio to another holiday might prevent another murder, but that's no guarantee.
Reviews:
"One cannot go wrong with 12 lively tales for the price."—SusieQ
"The mysteries in this collection were easy reads that were both engaging and entertaining and just enough of a tease to whet your appetite for more."—Dru Love
The Little Redheaded Girl is my Friend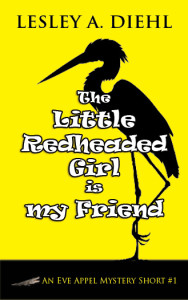 Eve Appel was an original long before she bought her clothing consignment store in rural Florida. After her parents are killed in a boating accident, she goes to live with her grandmother, "Grandy," in Connecticut. Already a trendsetter, Eve is also taller and braver than most of her grade school classmates. It isn't long before she meets the girl who will become her best friend—Madeleine. Petite and redheaded, Madeleine is clumsy but no pushover. Together they foil bullying students, bigoted teachers, and when they reach high school, the class lech.
While still in college, Madeleine and Eve seize the chance to tackle their first mystery. Their neighborhood drugstore is the target of a shoplifter, and naturally the local young people are suspect. That means they and their friends can't shop there anymore without security dogging their every step. After solving the case and settling an old score at the same time, Madeleine and Eve are left with a serious taste for sleuthing.
Thieves and Gators Run at the Mention of Her Name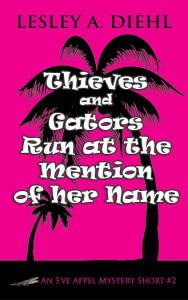 Fed up with her cheating husband, Eve Appel decides to leave her home in Connecticut and join her friend Madeleine in Sabal Bay, Florida, as a partner in a consignment shop. But Eve is not prepared for rural Florida, with gators constantly underfoot, scrubby palm trees, and swamp and prairie as far as the eye can see.
No sooner have they unlocked their new storefront when someone tries to break in. What is the thief after, they wonder, when all that's in the store are naked mannequins and dress racks? As usual, Eve is ready to tackle the mystery head-on, with Madeleine dragged reluctantly behind.
Gator Aid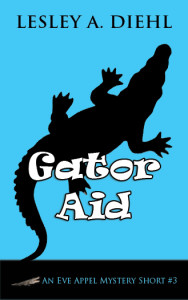 Eve Appel and her best friend Madeleine run a consignment shop together in rural Florida. Madeleine is also an author, and now she wants to switch from writing children's books to mystery novels. So she drags Eve to a writers' conference, hoping her friend will bolster her confidence during her big pitch to an agent. It soon looks as if Eve isn't going to make that appointment. A case of mistaken identity results in her agreeing to pose as the person she has been mistaken for. It doesn't hurt that the special agent assigned to the case is a hunk. When his plan to keep her from harm goes awry, Eve finds herself in the trunk of a car, en route to the swamps, where the hungry alligators await their dinner.
A version of this story won the 2009 Sleuthfest Short Story Contest, sponsored by Mystery Writers of America, Florida Chapter.
"Leave it to Cleaver" in The Killer Wore Cranberry: A Fourth Meal of Mayhem, Thanksgiving Anthology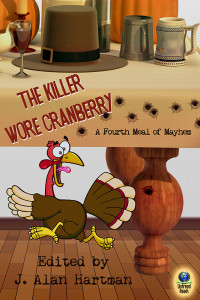 The Killer Wore Cranberry anthology is back with an all-new set of flavorful stories, guaranteed to whet your appetite for both your favorite holiday fare and a tasty crime story. In this collection of humorous short mysteries, see what happens when sisters are pushed over the edge, dentists dine with crime bosses, 1950s private detectives deal with dames and sweet potatoes and a family has a bit of a problem with their future son-in-law. And that's just the tip of the turkey leg!
Join us at our table for ten great stories from returning Cranberry authors Big Jim Williams, Lesley A. Diehl, Earl Staggs, Barbara Metzger, Steve Shrott, Laird Long and Barb Goffman. We've brought along some new friends too: Sandra Murphy, Rob Chirico and Debra H. Goldstein. And, again this year, Lisa Wagner presents three recipes in-between the stories that are sure to have your guests killing for seconds!
At the head of our table is J. Alan Hartman, the Editor-in-Chief of Untreed Reads Publishing who has curated all four installments of The Killer Wore Cranberry plus the anthologies Year's End, The Untreed Detectives and Moon Shot.
So, turn off that football game. Tell Grandma you just don't have time for green bean casserole or gelatin mold. Let Uncle Bernie sleep off the tryptophan in the recliner. Then, find yourself a comfortable spot away from the carving knives and get ready to laugh, solve crimes and experience our fourth meal of pure mayhem!
Untreed Reads: Formats: PDF, EPB, Kindle and links to Kobo and Apple's iBook store 
"Mama Gets a Lift"
Synopsis: Angela Baker should be thrilled at having given birth to her third baby, but her mother always finds a way of spoiling the moment. This time Mom takes a cruise specializing in plastic surgery and ends up overboard, murdered and leaving Angela to identify the body. But is it Mom? Angela isn't certain but, then again…who would be? The woman has become unrecognizable as a result of too many little ""procedures.""
Pushed by a detective determined to close the book on the murder, Angela does her own investigating and turns up more than one mother as well as the knife-wielding doctor from hell.
Untreed Reads  (Formats: PDF, EPB, Kindle and links to Kobo and Apple's iBook store)
"Murder with All the Trimmings" in
The Killer Wore Cranberry,
Thanksgiving Anthology
Nothing says Thanksgiving like food and murder. If you've ever thought about knocking off Uncle Seymour when he grabs the last slice of pumpkin pie or you think the turkey might be giving you the evil eye, this is the anthology for you! Authors Barb Goffman, Stephanie Beck, Laird Long, Beth Mathison, Earl Staggs, Lance Zarimba, Lesley A. Diehl, Jack Bates and Kathleen Gerard bring you servings of your favorite Thanksgiving dishes with a dash of mystery and a hearty helping of humor. You may still have to deal with the in-laws, but this anthology may make Aunt Esmerelda's green bean casserole a bit more tolerable to handle.
Untreed Reads (Formats: PDF, EPB, Kindle and links to Kobo and Apple's iBook store)
"Mashed in the Potatoes" in
The Killer Wore Cranberry: A Second Helping
It's the Thanksgiving mystery anthology everyone's been dying for!
In 2010, The Killer Wore Cranberry showed how funny murder and food could be. Now, in 2012, Untreed Reads presents a new installment of the worldwide, bestselling anthology with a table full of seasoned authors and new voices alike.
Join all of these fantastic authors as they make your holidays murderous and fill you with laughter: Arthur C. Carey, John Weagly, Earl Staggs, Amanda Lundberg, Betsy Bitner, S. Furlong-Bolliger, Steve Shrott, Andrew MacRae, Zoe Burke, Arlen Blumhagen, Lesley A. Diehl, Gail Farrelly, Herschel Cozine, Linda S. Reilly, Stephen D. Rogers, Barb Goffman and Laura Hartman.
So make some room for that extra portion of turkey, scarf down another slice of pumpkin pie and make room in the basement for all the dead bodies in this hilarious short story anthology that's destined to become a holiday classic.
Untreed Reads (Formats: PDF, EPB, Kindle and links to Kobo and Apple's iBook store)
"A Saucy Kind of Holiday" in
The Killer Wore Cranberry: Room for Thirds
You can't keep a good turkey down!
In 2010, The Killer Wore Cranberry showed how funny murder and food could be.
In 2012, Untreed Reads presented a new installment of the worldwide, bestselling anthology (The Killer Wore Cranberry: A Second Helping) proving that this was a hilarious mystery anthology with legs. Drumsticks, to be exact.
It's 2013 and Killer is back with all new crimes, all new capers and all new laughs that are guaranteed to make you forget the in-laws at this year's holiday gathering.
Join all of these fantastic authors as they make your Thanksgiving holiday murderous and fill you with laughter: Barbara Metzger, Mary Mackey, Toni Goodyear, Barb Goffman, Herschel Cozine, Lesley A. Diehl, Big Jim Williams, Elizabeth Hosang, Randall DeWitt, Sharon Daynard, Sarafina Gravagno, Laird Long, Rhett Shepard, Warren Bull, Lee Hammerschmidt and Mary Patterson Thornburg.
This year Killer is also introducing great recipes from vegan cookbook author Lisa Wagner to accompany the stories. After all, you can't have murder and humor on an empty stomach!
So loosen your belt, push out from the table a bit and get ready to devour some of the funniest crimes you'll ever experience at a Thanksgiving table. There's always Room for Thirds!
Untreed Reads (Formats: PDF, EBP, Kindle and links to Kobo and Apple's iBook store)
"Dessie's Jaded Past" in The Untreed Detectives
Kaitlin Singer, heroine of the humorous cozy mystery Angel Sleuth finds that Desdemona, the potbellied pig she and her roommates have adopted has a somewhat shady past, one that might prove helpful in tracking down a killer.
Sleuth…private investigator…detective. Many names for the same job, but the role itself comes in all shapes and sizes.
Presenting a variety of detectives, culled from the various novels both published and distributed by Untreed Reads. Whether it's a gritty clown or a children's book author, a pig or an investigator of crimes in the nursery rhyme universe, you'll discover a wide variety of short mysteries here from both best-selling authors and fresh voices.
This anthology contains the first new Amanda Pepper mystery in nearly a decade from award-winning mystery author Gillian Roberts, as well as original stories from Kara L. Barney, Amber Rochelle Gillet, Janet Majerus, Lesley A. Diehl, Neil Plakcy, Kaye George, Whit Howland, Albert Tucher, Herschel Cozine, Rodolfo Peña and Wade J. McMahan.
Untreed Reads store: (Formats: PDF, EBP, Kindle and links to Kobo and Apple's iBook store)