It's the first Sunday of the month, the day I feature a humorous excerpt from a mystery.  Today Sally Carpenter is joining us with The Cunning Cruise Ship Caper.  Cruising on the high seas was never so much fun… or so deadly.
Sally  is native Hoosier now living in Moorpark, Calif.  She has a master's degree in theater from Indiana State University. While in school her plays "Star Collector" and "Common Ground" were finalists in the American College Theater Festival One-Act Playwrighting Competition.
Carpenter also has a master's degree in theology and a black belt in tae kwon do.
She's worked as an actress, freelance writer, college writing instructor, theater critic, jail chaplain, and tour guide/page for a major movie studio. She's now employed at a community newspaper.
Books in the Sandy Fairfax Teen Idol series: "The Baffled Beatlemaniac Caper," a 2012 Eureka! Award finalist for best first mystery novel; "The Sinister Sitcom Caper" and "The Cunning Cruise Ship Caper."
Short stories: "Dark Nights at the Deluxe Drive-in" in "Last Exit to Murder" and "Faster Than a Speeding Bullet" in "Plan B: Omnibus."
Upcoming books are "The Quirky Quiz Show Caper" and a new cozy series.
She blogs at http://sandyfairfaxauthor.com and ladiesofmystery.com.
She's a member of Sisters in Crime/Los Angeles chapter. Contact her at Facebook or scwriter@earthlink.net.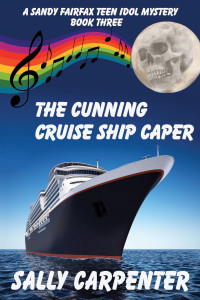 Description of "The Cunning Cruise Ship Caper": Former teen idol Sandy Fairfax and Celeste, his blind sister, put on a series of concerts aboard the SS Zodiac cruise ship. When a body turns up in Sandy's dressing room, with one of his signature scarfs tied around the neck, he starts snooping. He's also trying to woo Cinnamon, his beautiful choreographer. In this scene, they're having lunch in the Gemini Café. All of the ship's public areas are themed by the various zodiac signs.
"Sandy, is that man waving at you?"
Sure enough, the occupant by the back wall was signaling for us to join him. Aaron sat by himself at a table. No, not really alone—Moze was perched on his knee. I wasn't keen on having lunch with this guy and his doll, but maybe Cinny and I could eat quickly and finally be on our way together. So we sat, Sis on my right, Aaron—with Moze—directly across the table from me, and Cinny next to him. The ventriloquist was halfway through his shrimp salad. I could swear that Moze gave me the evil eye as I sat down—that's eye, singular, because one of the sockets in his face was empty.
The dummy turned his head toward Cinnamon. "Hubba hubba! This must be the tasty dish I ordered!"
Cinny, understandably, pulled back and stared at the doll. "What is that?"
I said, "Ladies, let me introduce Aaron Goldstein. He does a ventriloquist act on the ship. And that's Moze. This is Cinnamon Lovett, my choreographer, and Celeste Farmington, my sister."
"Hi, everyone," Aaron said. "Thanks for joining me. On these cruises it gets tedious to eat alone every day."
"Alone!" Moze exclaimed. "What am I, sawdust? I'm your best buddy. And why do you want to associate with these lowlifes anyway?"
"I beg your pardon!" Sis said.
Aaron forced a smile. "Don't mind Moze. He's always joking."
"And Aaron boy isn't," the dummy replied. "Especially when he's on stage."
Sis whispered in my good ear, "Why is that man so rude?"
"He's a dummy."
"I know that, but why—"
"He's a ventriloquist's dummy."
"You're kidding."
A set of identical twins, two waitresses in short skirts and sailor shirts and hats, stopped by to take our orders. The gals wanted hamburgers, fries, salads and soft drinks. I skipped the fries for just a burger, salad and unsweetened iced tea. I still hadn't worked up a taste for diet soda.
When the waitresses left, I said, "Aaron, can my sister take a look at Moze?"
He looked confused. "Sure, he's right here."
I sighed. I hate having to explain my sister's disability. You'd think her sunglasses would have given the guy a hint. I nodded at Sis, pointed to my eyes and then at hers, hoping the knucklehead would get a clue without me having to draw pictures. I guess he did because his face lit up with a modicum of understanding.  I took my sister's hand, reached across the table, and placed her fingers on the dummy.
She felt the wooden head and the natural hair. "It's missing an eyeball."
"Hey, watch it, toots," Moze said. "Don't go poking the other one out."
"What happened to your eye?"
"I don't know," Aaron said. "I didn't noticed it was gone until this morning. Maybe it fell out in the lounge after the show last night. Don't worry; I have spares in my cabin. I'll fix you up, Moze, when we're finished eating."
"I should hope so or you'll have to introduce me tonight as the Cyclops."
Sis said, "That's amazing. Why did you bring that thing in here?"
As I've said before, my hermit sister is a bit fuzzy on conversational skills.
But fortunately, Aaron didn't seem offended. "Moze goes everywhere with me. We're a team. That's why we work so well together."
Moze jumped in. "Oh yeah? What about the time you were shacking up with that Jodie creature? All I saw was the inside of a box. Can't tell me that witch was better company than me."
Aaron looked at Moze. "I had to spend time with her. She was my wife."
"But not for long!" Moze sounded ecstatic. "Her cutting out was the best thing that ever happened to us!"
"Moze, please."
Good thing the waitresses arrived at that moment. The food provided a distraction from the Aaron-and-Moze show.
After a few moments, I resumed the conversation. "So, Aaron, were you married to Jodie while the two of you worked on the ship?"
"That's right. Originally, Moze and I were part of the Starlight Ocean Revue. That's where Jodie and I met. For a while it was fun doing the show together but—well, you know. People change. After we split up, my contract with the revue was cancelled. I'm sure she had a hand in that. A few months later, the cruise line gave me my own show. Last night was my debut as a solo act. It's okay but the audience was nothing compared to the crowds I played to in the showroom."
"We don't need those turkeys." Of course, Moze had an opinion on the matter. "We're better off without that hussy and her lame vaudeville act. That revue is so outdated they're still using candles for the stage lights."
With Aaron literally talking out of both sides of his mouth, I had no idea how he really felt about anything.
I asked, "Did you love Jodie?"
"I was crazy about her," Aaron said.
"But she didn't give a tumble for you," said Moze.
Cinnamon cut in. "Celeste, how is your food? My burger's delicious."
"It's fine," Sis replied.
Aaron continued undaunted. "When Jodie left me, I was so devastated, I couldn't work. This cruise is my first gig since the divorce. My comeback, so to speak."
"Really?" I said. "It is for me too. I haven't done a solo concert in years."
"Looks like we're both starting over. Clean out the past, a fresh start."
Moze said with a sneer, "Yeah, with Jodie the jerk out of the way, it's full speed ahead, happy sailing!"
Aaron had finished his salad, so he excused himself, loaded the dummy into the black case, and left. The three of us breathed a collective sigh of relief.
Cinnamon watched him leave the café. "Interesting man, isn't he?"
I said, "I've never met anyone who could carry on a conversation with himself."
Cinny, finished eating, wiped her mouth with a napkin. "What was it the dummy said right before they left? 'With Jodie out of the way it's full speed ahead.'"
"He could be referring to the divorce," I said.
Sis said in a low voice, "Maybe Aaron killed her!"
"That sweet little man?" Cinny said.
"Don't let him fool you." I pushed my empty plate out of the way. "A guy who carries around a ventriloquist's dummy like a pet has a dark side I don't want to mess with."
Amazon buy link: http://www.amazon.com/Cunning-Cruise-Caper-Fairfax-mysteries-ebook/dp/B00PCPAQ5C/ref=sr_1_1?s=digital-text&ie=UTF8&qid=1415640282&sr=1-1&keywords=cunning+cruise+ship
If you have a humorous excerpt you'd like to share here, get in touch.  I feature a mystery with laughs the first Sunday of each month.