Our Guest this month is Steve Shrott.  His mystery short stories have been published in numerous print magazines and e-zines. His work has appeared in ten anthologies—two from Sisters-in-Crime (The Whole She-Bang, and Fishnets.) "Lucky Man," his newest story, will be in Sherlock Holmes Mystery Magazine #18. He has had two humorous novels published, Audition For Death, and Dead Men Don't Get Married, as well as a book on how to create humor. (Steve Shrott's Comedy Course.) Steve's comedy material has been used by well-known performers of stage and screen and some of his jokes are in The Smithsonian Institute. He has taught numerous courses on writing for various schools and organizations such as Savvy Authors, and The Romance Writers of America.
Dead Men Don't Get Married is about Arnie Katz, a dentist and part-time PI. Arnie is still in love with his ex-girlfriend Debbie, so when her fiancé is murdered right before the wedding, Arnie has to help.
But as he investigates he soon discovers things are not as they seem.
Here's a scene from Steve's Book:
I opened the door to find Gino Samatini. How to describe him? The word "ginormous" comes to mind. He looked like he spent eighty hours a week in the gym, bench-pressing Toyotas, and the rest of the time eating fried chicken by the bucket. He had black stringy hair that fell onto his shoulders. He seldom blinked, making it look like he always had his eye on you. He probably did.  "Arnie, Mr. Rodrico wants to see you."
"About what?"
"That would be better left for Mr. Rodrico to explain. Get your clothes on and let's go."
I nodded and got dressed. You didn't argue with Gino or Rodrico and live to tell about it. I slid into Gino's limo and, a few moments later, we were on the road.
As he drove, we exchanged small talk about his car, the weather, some of his business associates who seemed to have died in strange accidents lately, and, of course, his hobby of collecting doilies, some of which he crocheted himself. He apparently had about 300 in his collection––all colors, shapes and designs. The other mob members must be so jealous.
After a few minutes, he changed the subject
"Listen, doc, I got a tooth in the back that's killing me. Can you take a look at it?"
"Sure, Gino. Call my office and we'll set something up."
"I meant now."
"Now, while the car is moving?"
"I'm trying to make good time. You know how Mr. Rodrico hates tardiness."
"How about we pull over for a minute? I'll take a quick peek."
"Yeah, I guess." He parked on the side of the road and I examined his chipped, yellowed teeth.  "I think I see the problem, Gino." I reached into my pocket and pulled out my dental tweezers. I slid them into his mouth and removed a large popcorn kernel that had been stuck between his teeth. "How's that feel?"
"Much better. Thanks a lot, doc. You're a genius."
"Listen, Gino, why don't you make an appointment sometime at my office? I spotted a few cavities."
His expression suddenly changed, and I swear I saw his bottom lip tremble.
"Is it gonna hurt?"
I managed to calm him down and gave him my office number.
You may wonder why I would actually solicit business from a mobster. It's funny, but I can't stop myself. Whenever I see someone with dental problems, I just have to fix them. No matter who it is.
We arrived at Rodrico's house, just as I finally convinced Gino that his trip to my office wouldn't hurt and he might even get a free sucker out of it. That seemed to make him happy.
The house, an older brownstone in a suburban neighborhood, looked quaint, but not the type of dwelling you'd think the head of a mob family would inhabit. And they had really kept it up. It had been repainted in the spring after a revenge bombing by Jimmy the Fruit, (he liked killing by putting explosives in bananas,) and the hole in the roof repaired last Christmas when Larry the Ferret, (he was a master at hiding in small spaces,) slid down the chimney dressed as Santa, only with an Uzi.
I walked inside. Lisa, the maid, said hello, and told me I should go down the hall into the study.
The study resembled a library with its tall bookcases and tables piled high with magazines. The big man sat at his mahogany desk reading a book on nuclear physics. Most people might be surprised that a man in Rodrico's position would be a reader. But he was very knowledgeable about many things other than whacking people.
His coal black hair and dimples made him look much younger than his sixty-odd years. Today, as usual, he dressed in a black suit and black tie.
He stood up from his desk, came over and shook my hand. "Great to see you, Arnie." "Thanks, Mr. Rodrico." I suppose when he discussed mob business with his associates he had a dour expression, but with me, he usually smiled.
"How's the teeth business going?"
"Good, great."
"As I've told you before, we could put you under contract and make you mob dentist. Pay you really well. You could take care of all the guys. Of course, you'd have to give up your other clients."
"I appreciate it." And I did. But my mind already whirled with newspaper headlines––'Arnie Katz, mob dentist, murdered today over a root canal that went bad.' Somehow, I didn't see my future that way. "Still thinking about it, Mr. Rodrico."
"Have a seat," he said, pointing toward a red velvet chair in front of his desk. I sat as he walked behind the desk, and paced back and forth. And I have to tell you when a member of a major criminal organization paces, it puts you on edge.
"The assignment I have for you today is more of a personal matter, rather than business. I wouldn't trust this with too many people, Arnie, but––you––you're like family."
"Thank you," I said, not sure I wanted to be part of 'the family.'
He paced again. No wonder he was in such great shape, what with all the pacing."
Suddenly, he stopped and pursed his lips. "It's my wife, you know, Judy."
I nodded.
He sat down, picked up a file and rifled through the papers inside like it was a marked deck of cards and he wanted to find an ace. "See, lately I've received reports that she's been seen in the company of a young man. As yet, we haven't identified him. But if she's having an affair, I want to know." He banged his fist hard on the desk.
Rodrico loved Judy. But I wondered what would happen if he found out she'd been having an affair. I really didn't want to be responsible for any bad things that happened. So I did the manly thing and tried to weasel out of this assignment.
I stood up as if I were about to go. "You know, Mr. Rodrico, I'm not sure if I'd be very helpful. I'm not a specialist in this kind of work."
He stared at me, his eyes intense, then moved his face close to mine. I'm sure it was the same way he approached someone right before he gave them the kiss of death.
I moved out of smooch range.
"Arnie, I want you to do this for me as a favor."
"I would love to but the thing is…"
He stared some more. Sweat poured out of places on my body I didn't know you could sweat from. "Okay, fine. I'll do it.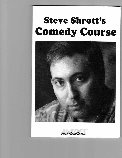 Buy Links for Steve's books: