I know. I know. I'm posting this blog a day late, but I hope you'll give me some latitude. We spent the last ten days packing and then driving to our place in rural Florida. It's exhausting both emotionally and physically. Our cats are fine once they're on the road, but the days before we leave they try to find a place to hide or they demand our full attention by climbing into our luggage. They seem to be saying both, "Don't forget me," and "Go without me." The male cat has to have his cerenia shot or he gets car sick, but taking him to the vet to get it means he throws up on the way there and on the way back. Everybody pays.
But now we are here. The weather is warm, and when we sat out back the second night after we arrived, I remembered why we love living here and why I have set two series in the Big Lake country (Lake Okeechobee). I've long maintained that the swamps and grasslands of rural Florida are the perfect locales for murder. Hiding a body is simple: you leave it in a swamp and the alligators do all the disposal work for you. That's a kind of grisly reminder that I am writing about murder and choosing just the right place for it. Having said that, there is also the beauty of this place. It is wild and parts of it look much as it did before the developers took over and paved it. There has to be a reason why I choose to live here almost six months of the year and why my protagonists, who are both transplants from the north, find it to their liking.
Bird life is abundant. Last year several limpkins moved onto the canal behind our house. I find them very handsome birds with the most annoying shrill cry. Some have described it as a woman screaming. There are kingfishers that swoop down onto the canal and grab their prey, and snowy egrets, herons and cormorants who find their meals in the canal also. Several anhingas, sometimes called snake birds because of their long sinuous necks, dry their feathers after fishing by sitting on the bank fanning and flapping their wings. Buzzards circle in large groups looking for their dinners. They are the garbage collectors of our roads. There is a grim beauty to be found in even these scavenging birds.
Of course, the most goal-oriented hunters are the alligators, who glide without sound in the canals and the lakes, reminding humans that the waters here are not for swimming, but for fishing from the safety of one's boat. If you like fishing, this is the place for it with the abundance of bass, catfish and speck in the lake's waters.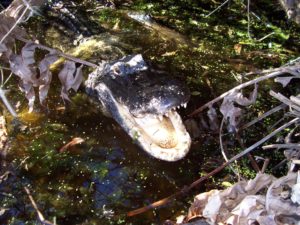 The vegetation is lush, almost tropical, live oaks, cypress and palms of many varieties many hung with Spanish moss, lending an air of mystery and foreboding to the area. Bougainvillea, hibiscus, and beach daisies punctuate the green with yellow, coral and red blossoms. Crowns of thorns produce clumps of red and peach blossoms…and thorns that bite if you try to touch their beauty. Like everything here there are two sides to rural Florida—the beauty of the wild alongside its danger. It is the penultimate backdrop to produce just the kind of tension a mystery writer wants in her work.
I feel as I imagine a hen does when she settles down onto her nest. Comfortable, knowing I'm in just the right place to produce the egg I call a cozy mystery. For the next several weeks I will be working on final edits for the fifth book in the Eve Appel mysteries. I've also been promising I will release new versions of the Big Lake Murder Mystery series with protagonist Emily Rhodes, another winter visitor. I look out my window across the canal into the field beyond at the palmetto and palms and realize I have the ideal place for my protagonists to take on the bad guys (and gals) and fall in love while doing it. I'm happy to be back in my winter home.