Laura Murphy, the protagonist of Murder Is Academic lives on this beautiful lake in upstate New York.  She teaches psychology at a local college and looks forward to afternoons relaxing with friends on her dock overlooking the lake, and especially now that she's fallen hard for a guy who teaches biology and rides a big, ole' motorcycle.  Unfortunately, the murder of her college's president turns Laura's summer into a search for the connections between the murder, pollution of the lake's waters, and suicide.  The lead detective on the case figures there's no one getter to help him untangle this mess than his nosy friend Laura who knows everything about everyone at the college. He may be right, but will her knowledge lead her to a solution too late to save her own life and that of her lover?
This is Laura's first foray into being an amateur sleuth, and it appears she likes it well enough that she'll want to do it again.  I'm delighted to add her to my other country gals who have taken up solving mysteries.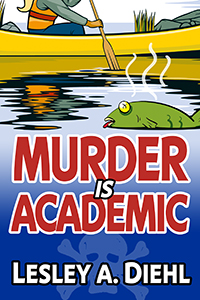 You can purchase Murder Is Academic in all ebook formats here
Or on Kindle here. 
Laura and I are doing a blog tour.  Please join us.  You may win a book.
Tour Participants
May 15 – rantin' ravin' and reading – Review, Guest Post, Giveaway
May 16 – Shelley's Book Case – Review, 
May 17 – The Book Junkie – Review, Giveaway
May 18 – 
May 19 – Bea's Book Nook – Review
May 20 – fuonlyknew ~ Laura's ramblins and reviews – Review
May 21 – deal sharing aunt – Interview, Giveaway
May 22 – Victoria's Pages of Romance – Guest Post
May 23 – Traci Andrighett's blog – Review
May 24 –
May 25 –
May 26 – Melina's Book Blog – Review, Guest Post, Giveaway
May 27 – Cozy Up With Kathy – Interview
May 28 – Socrates' Book Reviews – Review
May 29 – Back Porchervations – Review, Interview
May 30 – Community Bookstop – Review
May 31 – StoreyBook Reviews – Review