Cindy Sample's Dying For… mysteries feature some unusual scenes, like dueling backhoes!  She also is fond of creating unusual and fun characters such as a grannie who drives a red Mustang convertible.  So who better than Cindy to talk about humor and murder.
Cindy is a former mortgage banking CEO who decided plotting murder was more entertaining than plodding through paperwork. She retired to follow her lifelong dream of becoming a mystery author. Her national bestselling humorous mystery series, set in the California gold country, features single soccer mom, Laurel McKay.
Dying for a Date was released in 2010. Dying for a Dance (2011) and Dying for a Daiquiri (2013) were both finalists for the LEFTY Award for Best Humorous Mystery. Dying for a Dude (2014) combines gold rush history, humor and homicide. Cindy is already researching Dying for a Donut and hoping her carb count does not exceed her word count.
Visit Cindy's website at www.cindysamplebooks.com.
And on facebook  www.facebook.com/cindysampleauthor
MURDER AND MIRTH – A MAGICAL COMBINATION
by Cindy Sample
I've been addicted to mysteries since I discovered Nancy Drew, whose adventures seemed far more intriguing than those of Dick, Jane and Spot. My first literary masterpiece occurred when I turned my third-grade spelling words into a sixteen-page novella titled "Cindy Parker and the Haunted Mansion." If my mother hadn't made me go to bed at 8:30, who knows what I could have accomplished. Maybe an Edgar nomination? The teacher gave me an A plus and I was hooked. I knew I wanted to be a mystery author.
In the next forty years, a marriage, two children, and a corporate career intervened so my dream was put on hold. Temporarily. After a divorce, I discovered the best anti-depressant was to read a great mystery, one that combined not only a puzzle for me to solve, but also kept me laughing.  Pairing humor with murder was a must.
Since I'd tried on-line dating, I figured I had more than enough stories to plot Dying for a Date, the first book in my Laurel McKay mysteries. While the act of meeting someone new can be terrifying, it can also provide tons of material, much of it hilarious. I always warn my coffee dates they could end up in a book some day.
When Laurel's first two dates unexpectedly drop dead and she becomes the # 1 suspect, the suspense heats up. As does the humor since the single soccer mom sleuth has to prove she's innocent. Tangling with a killer is scary. Forgetting it's your turn to be snack mom? Pure terror!
It's essential that readers relate to the protagonist, rooting for her as she searches for a killer. In Dying for a Date, Laurel discovers that when faced with a gun, she didn't want to flee, she just wanted to pee. I know I'm not the only member of the "hot flash" set who can relate to that situation.
In my recent release, Dying for a Dude, Laurel's grandmother and mother are at odds over the mother's attempt to move Gran into a retirement community. This scenario is also relatable to many readers today, although not everyone has a grandmother who drives a red Mustang convertible, a matching feathered boa wrapped around her neck, flying in the wind. Gran basically writes her own lines with very little help from me.
My favorite use of situational humor would be my chase scenes. Anyone can write a fast-paced chase, but I guarantee I'm the first author to write a scene with dueling backhoes. In Dying for a Dude, I created a chase scene that one author said was the funniest she'd ever read. It's hard to go wrong with a chase scene that includes a stagecoach, a runaway carriage, a motorcycle, and a horse that can evidently jump over Mini-Coopers.
The goal of a humorous mystery author is to combine conflict and suspense while also providing those unexpected LOL moments that contribute to making the story memorable.  My favorite compliment from a reader was when she told me she stayed up all night reading one of my books, laughing so hard the tears were streaming down her face.  It doesn't get any better than that!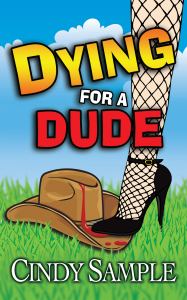 I think that might be Cindy's shoe on that guy's hat.  That's no way to treat a Stetson!
Buy links:
http://www.amazon.com/Dying-Dude-Laurel-McKay-Mysteries-ebook/dp/B00OW8T2XM/ref=sr_1_1?s=digital-text&ie=UTF8&qid=1417153486&sr=1-1&keywords=dying+for+a+dude
http://www.barnesandnoble.com/w/dying-for-a-dude-cindy-sample/1120637140?ean=2940150381506
As you can see, Cindy creates some quirky characters.  What's your favorite oddball character?