We are joined to day by Miriam Auerbach, author of a motocycle riding mama series set in Boca Raton (and you thought everyone there was over seventy, didn't you).  I had the pleasure of hearing Miriam on a panel last year at Sleuthfest, and she is a very funny gal.  Where does all that humor come from?  Read on and you may be surprised.
Thanks so much, Dr. Diehl, for hosting me to comment on a deadly serious subject: mirth and murder.  Why do I write about these two seemingly contradictory life experiences?  Well, I think they have a common root.  Many murders are committed from anger.  And I have heard many comedians say that their humor stems from anger, as well.  For me, both are true (well, I haven't killed anyone, but hopefully you get my meaning).  Yes, I am one angry beeeaaatch, just like my protagonist, Dirty Harriet (and, might I mention, her inspiration, Dirty Harry).  Okay, I have a wonderful, supportive husband, two loyal dogs, a beautiful home in paradise (i.e., South Florida), true friends – so what do I have to be angry about?  In a word: injustice.  You know, that stuff we read or hear about in the news every day.  Corrupt politicians (but I repeat myself, as Mark Twain said).  Exploitative employers.  Bigoted bullies.
So I channel my anger by taking down my targets with satire and slaying (fictional, of course).  Just what is satire?  I did some in-depth, writerly research on this (in other words, I went to Wikipedia).  According to that definitive reference source, it's an art form "in which vices, follies, abuses, and shortcomings are held up to ridicule. Although satire is usually meant to be humorous, its greater purpose is often constructive social criticism, using wit as a weapon and as a tool to draw attention to both particular and wider issues in society." I'm no Jonathan Swift with his "Modest Proposal," but my own modest aim is to make a few readers laugh, to think – and maybe to act.
As for the slaying part, real-life jerks become either victims or villains in my books.  And Dirty Harriet sees to it that the villains always get their just rewards.  And I hope that's as rewarding to you, the reader, as it is to me.
Lesley says:  Now isn't she just the most respectful person, calling me by my title.  Here's a little secret about her–she's got a doctorate too.  So thank you, Dr. Auerbach, for your thoughts about murder and funny stuff.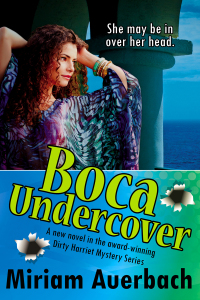 Miriam Auerbach is the author of a satirical mystery series set in Boca Raton, Florida and featuring Harley-riding, wisecracking female private eye Harriet Horowitz.  Her debut novel, DIRTY HARRIET, won the Romantic Times Reviewers' Choice Award for Best First Series Romance.  Miriam can only assume that this is because the heroine kills her husband on page one. The third book in the series, DEAD IN BOCA, won a Royal Palm Literary Award for humor/satire from the Florida Writers Association. Her new release is BOCA UNDERCOVER.
Visit Miriam at www.miriamauerbach.com where you can read book excerpts, watch Miriam on a TV interview, and more.
Like Miriam on www.facebook.com/AuthorMiriamAuerbach.
Miriam's books are available in e-book, paperback, and audio formats.  Buy links can be found on her website or her Amazon Author site: http://www.amazon.com/Miriam-Auerbach/e/B001H6O4C6/ref=pd_sim_kstore_bl_1 .
What do you think?  Does satire reveal injustices for you, make you think, or even goad you into action?