Author James R. Callan
I'm excited to have Jim Callan as my guest blogger. After a successful career in mathematics and computer science, receiving grants from the National Science Foundation and NASA, and being listed in Who's Who in Computer Science and Two Thousand Notable Americans, James R. Callan turned to his first love—writing.  He wrote a monthly column for a national magazine for two years. He has had four non-fiction books published.  He now concentrates on his favorite genre, mystery/suspense, with his seventh book releasing in 2016.
He writes a series featuring Father Frank and uses a small town setting, and because Father Frank is not a PI, but an amateur sleuth, this series is a typical cozy. Below Callan discusses how he uses serious themes in his work.
Serious Themes in Cozy Mysteries
I  like to write cozy mysteries.  But that doesn't mean serious themes can't be used. In fact, I think they should be used in cozies.  Just keep in mind it  is a cozy you're writing.  Make sure there is some humor, some light sections, something else besides the serious theme.  If the book never veers away from the serious theme, then perhaps it isn't a cozy.  Maybe it's still a good book, just not a cozy.
In my first Father Frank cozy, Cleansed by Fire,  church fires play a central role. This is a very serious theme. The mystery follows a  priest trying to find a way to stop the arsons, without breaking the seal of confession where he heard a clue to the fires. But, a sub-plot deals with a youth choir. And just a touch of romance finds its way into the book. I also include some of the everyday tasks the priest must attend to, even as he searches for suspects and clues.
Do the subplots tie in with the serious theme? Yes they do. The choir decides to give a concert to raise money to help the congregations whose churches were destroyed. The bit of romance takes place between a member of the parish who is helping Father Frank search for clues and the detective who is investigating the arsons. But, the tone of these subplots is light, happy, and upbeat while the church burnings are just the opposite.
In the second Father Frank mystery, Over My Dead Body, the serious theme is the misuse of eminent domain and greed. Again, this is crucial to getting the story off the ground. In this book, the progress of the romance between the parish member and the detective plays a larger role. And while romance can be serious stuff, it is a definite step away from murder. Also, I bring in Father Frank's sister who, while attacking the problem of solving the murder, adds a lighter, humorous touch.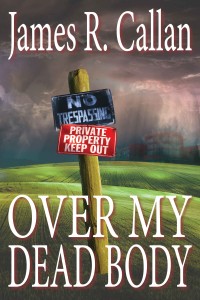 In Twenty-Eight and a Half Wishes by Denise Grover Swank, the protagonist first sees a vision that she has been killed, and then finds her mother murdered. And she is the prime suspect. So, no doubt we have a serious theme. Her visions have always come to pass. So, she believes this vision and makes out her bucket list of twenty-eight things she wants to do before she dies. Some of these are silly (jump on a trampoline, fly a kite) so we get a lot of light-hearted scenes. But her mother's murder, and the attempts on her life are precipitated from smuggling by a crime syndicate. Serious stuff.
Thus, a good cozy can, and should, have a serious theme and a lighter side.  Ease the serious stuff in gently.  Don't slap the reader in the face and say, "Pay attention to this serious situation."
Whoa.  As a fiction writer, don't you need to strive to catch the reader's attention, and that often means popping some startling statement about something important on the first page?
Well, yes.  What I driving at is, the more serious aspects should be treated carefully. For instance, the murder is often off-scene. We don't give the reader all the gory details. CSI is not a cozy.  In Over My Dead Body, I do not go into the court cases on eminent domain. In Cleansed by Fire, I do not go into the psychology of arsonists.  There are murders in both of those books, but reader doesn't see the murder.
While the definition of a cozy mystery has changed in recent years (we no longer have to have a women in a small English town as the protagonist),  it still means violence is downplayed and the crime and detection take place in a small, socially intimate community. And it often contains humor.  You can include serious themes, but keep the definition of a cozy in mind.
Author's website:           www.jamesrcallan.com
Amazon Author Page:    http://amzn.to/1eeykvG
Over My Dead Body, is available at:   http://amzn.to/1BmYQ0Q