The writer who thought up the idea of publishing seven mysteries by seven different authors and offering them as a boxed set is RP Dahlke, who always has some new publishing and promotional scheme afoot.
I asked her the same question I'm asking all the authors who wrote the humorous mysteries that appear in the boxed set: Why do you like to write funny and murder together?  What's so funny about murder?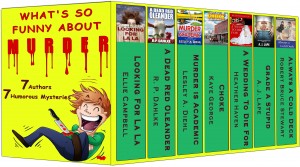 Here's what she told me.
Hi Lesley, Thanks for asking!
I got to thinking why I so very much like reading and writing about strong women. To be honest with you, I think it's because I've spent most of my life as a wimp, doing as I was told, minding my manners, saying all the right, and expected, things,  until one day  I realized being miss-goody-two-shoes was getting me exactly nowhere. Since then, I've been called disrespectful, annoyingly forward, and my favorite—uppity.  To make up for lost time, I suit up as Lalla Bains, born again bachelorette, ex-NY Model, crop-duster, sometime amateur sleuth.   I might as well let her tell it… she's crowding me for the spotlight anyway. 
 Lalla Bains here, and I seldom do as I'm told especially after my lyin', cheatin' whoring  second ex-husband took up with yet another too-tasty-to-resist side-dish. 
 So what if I took a baseball bat to his recently restored vintage Caddy? It was worth it just to watch him  try to yodel  his way out of this latest lie… like I didn't catch him and his secretary fogging up the windows of his pimp-mobile.
I smashed in the headlights, the driver's side window, and just for good measure, slashed the tires. That way, he had to get a tow.  I skinned him of the Caddy in the divorce and, just for spite, painted it candy apple red.
That's me, hell raiser—well, sort of. Flying and partying don't mix during the long hard days of summer.  Even if I had the energy  I get too damn little sleep as it is and now that I'm fu-fuuu-fu-forty.—'kay, that's—that's just—rude to laugh. You try my life for a day—up at three a.m., chasing after lazy pilots and the smart mouthed ground crew I inherited when my dad when he went  in for a triple by-pass.
"Would you mind coming home and taking over the crop-dusting business?" he says, coughing lightly into the phone. "I might not be around much longer." 
Miraculously recovered, my tight-wad father is now too busy to take back his desk, what with re-discovering  a whole new wardrobe from the back of his closet.  He's in leisure suits, squiring local widows to funerals and scarfing up free meals at the wakes while I try to shake off the ankle biting Chihuahua we inherited from the last murder case.
On the bright side, my love life is finally out of the dumps since I have a wonderful relationship with Sheriff Caleb Stone. Well it would be, if only I could do as I'm told and stay away from solving crimes. It's not my fault that people die at my feet.
But, If I did as I was told and stayed out of trouble,  I never would have solved those cases.   Maybe that's why well behaved women seldom make history is now my motto.
And thanks, Rebecca (and Lalla), for telling us how the Dead Red books turn out so hilarious.
Here's a bit more about Rebecca's work.  If you liked reading about Lalla in the boxed set, you might enjoy more Lalla in Rebecca's newest book, A Dead Read Alibi
#4 in the Dead Red Mystery Series
A successful, but reclusive young artist with a secret life.
A wannabe lawman and his dotty gun-toting granddad
an abandoned mine pit, a curious dad.
A police chief is found in an abandoned mine pit
When Lalla and her dad take a trip to Arizona to inspect her new property, Dad disappears. But when Lalla enlists the help of a local tracker she's relieved to find him unharmed, but in the bottom of a mine pit. Unfortunately, he's got company–a local police chief, and it looks like he's been murdered. Then too, a young woman artist living nearby has also been murdered. What're the chances that these two murders are going to be related? Well, if you're Lalla Bains, you don't guess, you start looking for the killer!
Other books by RP Dahlke: A Dead Red Cadillac, A Dead Red heart, A Dead Red Oleander
 and Hurricane Hole, A Dangerous Harbor
Next week I'll have more about the authors in the boxed set.  Don't forget, it's only 99 cents for seven mysteries.  This can't last forever!
http://www.amazon.com/Whats-Funny-About-Murder-Mysteries-ebook/dp/B00N038P1K