I've never been one to spend much time thinking about the past, but sometimes I think it's a good idea to take a look at what was. It's humbling.  On March 15, Camel Press will release the fifth book in the Eve Appel mysteries. I've taken Eve on quite a journey. She's changed—grown into a more generous and patient woman, but still sassy and snoopy. I thought I'd take you back to take a look at Eve in the beginning, in her own words:
A Day in the Life of a Connecticut Fashionista turned Country Gal
I'm Eve Appel, and I now live in rural Florida.  People who knew me when I lived in Connecticut believe I'm temporarily insane living here, but I feel I've found myself.  Finally.  I didn't come here as a destination.  I came to get away from my now ex-husband Jerry.  Everywhere I went I ran into him with some bimbo on his arm, and I was just sick of it.  I knew he was trying to make me jealous, but what I was feeling was more like disgust that I'd ever married him.
My dear friend Madeleine Boudreau had inherited a house in Florida from her aunt.  We talked daily on the phone, and I believe she got tired of hearing about my Jerry-and-girl sightings.  When he brought one of his blondes to my birthday party and I ranted about it to Madeleine, she said, "I'd divorce the lout, but then I'm not you.  Why don't you come down here for a visit and get some distance."  A thousand miles seemed like about the right distance, so I hopped a plane and landed in the sunshine state.  Madeleine and I had also talked about our setting up a business together in Sabal Bay, Florida.  I was thinking tea shop; she was thinking bait shop.
As she drove me from the airport towards Sabal Bay, I watched the scenery change from gated communities with pruned plantings of palms, banyans, bougainvillea, and lantana to fields of scrub palmetto and pastures filled with funny lop-eared cows.
"What's wrong with those cows?" I asked.  "It looks like their ears are broken."
"They're a Brahman cross," Madeleine replied as if that explained anything.
We crossed a high bridge over a canal which allowed me a view of a huge body of brown water.  Logs were washed up on the shoreline, or so I thought.
"I thought water in Florida was blue."
Madeleine looked at me with some concern.  "That's the Big Lake.  And it's shallow and brown.  Great lake for fishing, but you wouldn't want to swim in it.  Did you see the alligators?"
"I wondered why those logs were walking."
I thought Sabal Bay would be a city like Orlando or West Palm, but as we drove up its main street, all I saw were feed and tack shops, fast food places, a large supercenter, two supermarkets, fishing camps and a whole lot of bars.
"So where are the shopping malls?" I asked
Madeleine gave a nervous laugh, and her expression of concern deepened the lines on her forehead.
She braked as a pair of large birds ran into the road.  I later learned they were sand hill cranes.  Nice birds.  I understand they mate for life, unlike Jerry and me.
We pulled into a bar and restaurant called the Burnt Biscuit.
"It's late.  Let's grab a bite," said Madeleine.
Inside karaoke night was in full swing and a cowboy was crooning a tune about lost love.  Gosh, he was handsome.  I wanted to make him forget about that little gal that done him wrong.
"I know this isn't what you expected," Madeleine said as we tucked into a rack of barbequed ribs.
"No.  It is not."
"So you can see why I don't think a tea shop would work here."
"Righto."  I watched the collection of men at the bar all wearing cowboy hats and boots, many with spurs.  Some of them stared back at me.  One winked.   I smiled.  Some of the others grinned and tipped their hats to me.
"So maybe you're thinking you'd prefer not to consider a business here?"
I was thinking so hard I'm sure my punked blonde hair must have been twitching with excitement.
"Madeleine, my dear, these people need me.  I can save the women in this place as well as the society matrons from West Palm who are looking for some pin money after their husbands lost millions in Bernie Madoff schemes.  It's simple.  We bring used clothing from the matrons in West Palm straight to the wilds of rural Florida where everyone can shop in relative obscurity, and the women from Sabal Bay can upgrade to haute couture without a high price.  I know I love cowboys.  Don't you think the wealthy would love sneaking off to dance here with some of those handsome dudes wearing hats and tight jeans?
Madeleine looked back at me and her face brightened.  I could tell she was filling in my vision of the shop with her own ideas.
And that's when the idea for a high end consignment shop in rural Florida was born.  Eve and Madeleine, two country gals with big ideas.
That was then. This is now. Eve's newest adventure: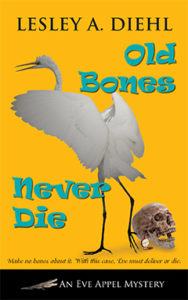 Just before Walter Egret is killed in a hit-and-run, he phoned his half-brother Sammy to report that he'd unearthed their missing father's pocket watch, along with a pile of human bones. The project is put on hold until it can be determined if the site is an Indian burial ground. Then the bones disappear.
Now Sammy and his brother's three orphaned children want Eve Appel to go pro, applying her innate snoopiness to the trade of private investigator.
Eve already has her hands full with her two consignment stores. What is she going to do? Sammy and Walter are Miccosukee Indians, and Walter was employed as a backhoe operator on a construction site for a sportsmen's resort. Was Walter's death murder or an accident? If the bones belong to Sammy's father, how did they get there? Delving into these mysteries, Eve is aided by her usual crew of friends and family. This adventure will not only up the stakes for Eve as an investigator, but it will also open her eyes to life possibilities she never imagined.
Make no bones about it. With this case, Eve must deliver or die.
Pre-order on Amazon: https://www.amazon.com/Old-Bones-Never-Lesley-Diehl/dp/1603813179/ref=sr_1_1?ie=UTF8&qid=1481481800&sr=8-1&keywords=Old+Bones+Never+Die