Today Lois Winston is visiting.  She asked me if she really ought to be here since this is the home of sassy country gals and, as Lois points out, Anastasia Pollack is no country girl.  But, of course she belongs here.  This is the place where all amateur sleuths with 'tude are welcome.  And Anastasia certainly has that.  Read on…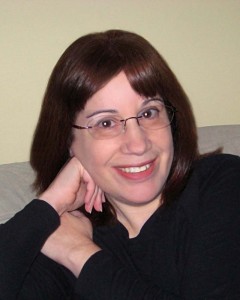 Lois Winston, our crafty visting author     I think I may be in the wrong place. Right at the top of this blog it states, "Welcome To the Home of Country Gals Who Stumble Into Sleuthing." Anastasia Pollack, my reluctant amateur sleuth, is anything but a country gal. She's a Jersey girl through-and-through.And I'm not talking
South
Jersey, where you'll still find the occasional farm that hasn't yet been snatched up by developers who plant McMansions instead of Jersey tomatoes. No, I'm talking
North
Jersey, a few short miles west of Manhattan. Anastasia, like her author, is a city girl exiled to the suburbs. We don't do country.
Still want me, Lesley?
Well, as long as I'm here, let me tell you about Anastasia Pollack. She's the star of four full-length Anastasia Pollack Crafting Mysteries and three Anastasia Pollack Crafting Mini-Mysteries (with more of both on the way.) The three mini-mysteries are also now available in an anthology, Crafty Crimes, a Trio of Anastasia Pollack Crafting Mini-Mysteries.
Anastasia, the crafts editor at a women's magazine, was living a typical middleclass life in the 'burbs with a husband, two teenage sons, and a Shakespeare-quoting parrot she inherited from her great-aunt Penelope Periwinkle. One day her husband dropped dead at a roulette table in Las Vegas. She thought he was at a sales meeting in Harrisburg, PA. Her life hasn't been the same since.
You see, Karl Marx Pollack was a closet gambler who never could get Lady Luck to notice him. Much to Anastasia's shock, Karl left her with empty bank accounts, huge debt, and a loan shark demanding $50,000—not to mention his communist mother and her French bulldog Manifesto—as permanent houseguests.
Anastasia's only recourse is to find some way to make extra money. She moves her studio from the apartment above her garage to her damp and dingy basement and rents out the space to Zack Barnes, a mysterious photojournalist who may also be a spy. He denies it; she thinks the man doth protest too much.
Throughout the course of the series, Anastasia searches for ways to pay down her inherited debt, keep a roof over her family's head, prevent her mother from killing her mother-in-law, and find time to explore her budding relationship with Zack. Unfortunately, wherever Anastasia goes, the reluctant sleuth is drawn into a web of crimes that need solving.
Bio: Award-winning author Lois Winston writes mystery, romance, romantic suspense, chick lit, women's fiction, and non-fiction under her own name and her Emma Carlyle pen name. Kirkus Reviews dubbed her critically acclaimed Anastasia Pollack Crafting Mystery series, "North Jersey's more mature answer to Stephanie Plum." In addition, Lois is an award-winning craft and needlework designer who often draws much of her source material for both her characters and plots from her experiences in the crafts industry. Visit Lois/Emma at www.loiswinston.com and Anastasia at the Killer Crafts & Crafty Killers blog, www.anastasiapollack.blogspot.com. Follow everyone on Twitter: https://twitter.com/Anasleuth.
Crafty Crimes, a Trio of Anastasia Pollack Crafting Mini-Mysteries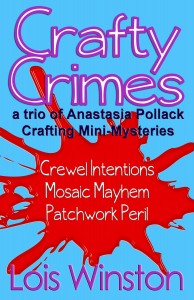 Crewel Intentions
Crafts editor and reluctant amateur sleuth Anastasia Pollack receives a desperate phone call from former American Woman fashion editor Erica Milano. Erica is now in Witness Protection and living under a new identity in Western Pennsylvania. But someone is stalking her, and Erica has compelling reasons why she can't go to the police or notify her Witsec handlers. Anastasia is the only person she can trust to help her, and she knows Anastasia won't let her down. After all, Erica once saved Anastasia's life. But will Anastasia be able to return the favor before the stalker strikes?
Mosaic Mayhem
So much for a romantic getaway…When cash-strapped mom and reluctant amateur sleuth Anastasia Pollack is offered an all-expense paid three-day trip to Barcelona, her only worries are whether her passport is still valid and arranging care for her semi-invalid mother-in-law during her absence. However, within hours of landing in Europe, she finds herself staring down the barrel of a gun and needing to convince a Spanish crime syndicate they've got the wrong person. Why do people on both sides of the Atlantic keep trying to kill this pear-shaped, middle-aged single mom, and magazine crafts editor?
Patchwork Peril
After rescuing her elderly neighbor Rosalie's quilts from a rainstorm, crafts editor Anastasia Pollack discovers Rosalie unconscious at the bottom of her basement stairs. Rosalie's estranged niece Jane arrives to care for her during her recovery, but Rosalie suspects Jane's motives are less than altruistic, going so far as to accuse Jane of trying to kill her. Is Rosalie's paranoia a result of her head injury, or is there something more to her accusations? And can Anastasia uncover the truth before it's too late?
Buy Links
paperback http://www.amazon.com/gp/product/1940795079/ref=as_li_qf_sp_asin_il_tl?ie=UTF8&camp=1789&creative=9325&creativeASIN=1940795079&linkCode=as2&tag=loiswins-20&linkId=5F4XXSL3XQ2FIHRO
ebook
http://www.amazon.com/gp/product/B00KC6HR8K/ref=as_li_qf_sp_asin_il_tl?ie=UTF8&camp=1789&creative=9325&creativeASIN=B00KC6HR8K&linkCode=as2&tag=loiswins-20&linkId=JSJO66CVV5FE4K63