She's visited here before, so I trust you recognize her name and her picture. I'm delighted to have her back again. Elaine Faber is a member of Sisters in Crime, Inspire Christian Writers, NCPA, and Cat Writers Association. She has published three cozy cat mysteries and two WWII mystery-adventures. Elaine's award-winning short stories are included in eight anthologies and various magazines. Elaine's humorous mystery/adventure WWII novels, Mrs. Odboddy Hometown Patriot, and Mrs. Odboddy Undercover Courier are available at Amazon in print and e-book ($3.99).  http://tinyurl.com/jn5bzwb
Her post today takes a look at the cozy mystery genre with some advice to writers new to the genre.
Launching a Cozy Mystery Series
This is for new writers thinking of launching a cozy mystery series. According to some sources, there is a tried and true template that must be followed to guarantee success.
Let's analyze the template.
Ideally, we need a young, curvy blonde amateur sleuth who lives in a small town. She has a dog or a cat to capture animal lovers. The dog/cat don't have to solve crimes, but it helps.
Next, she must have an inept sweetheart, preferably connected to the police department. How else could she access official information generally withheld from the public?
Next, the lady sleuth should have a career or hobby that hasn't been done to death–that allows her access to crime, preferably murder. Sadly, the best jobs or hobbies have been taken by other popular series; i.e. book store owners, bakeries, coffee houses, news reporters, dog sitters, private detectives, bumbling housewives, etc.
For the purpose of our experiment, I propose a lady sewer truck driver with access to back yards, spotting nefarious 'going's-on.'
So let's see…Now to plug in the successful formula… The plumber and her quirky gay sidekick (This taps into yet another level of readership) find a body in the pump house. Proceed with red herrings, unrequited love, and suspicious characters from Home Depot and OSH, all with alibis. Add a bumbling immigrant housekeeper, find a secret message in a toilet roll, or what-have-you. Toss in plumbing trivia, a humorous scene with the dog throwing his toy in the toilet, and a few overflowing bathtubs.
Now, move right along to the climax. Our heroine agrees to meet the villain in a plumbing warehouse. (Remember? She never reveals her dangerous meeting with the villain). The villain is always the least expected character. He strings her up to the rafters. Death is imminent.
At the last possible moment, led by her faithful dog, her detective boyfriend and the dog burst through the door armed with a toilet brush. The murderer is revealed, (we knew it was him all the time). Every toilet lid is lowered, every leaky faucet tightened. The heroine and detective ride off into the sunset in her sewer truck.
With few variations, this is the formulaic template that will most likely lead to a best seller.
In Mrs. Odboddy Undercover Courier, we dare to break the mold and bring you a cozy mystery-adventure set during WWII with an elderly woman heroine. She carries a package to President Roosevelt she believes contains secret war documents. Along the way she meets two soldiers, bound for training as Tuskegee airmen, a shell-shocked veteran who lends an unexpected helping hand in a crisis, a man suspected of pushing his wife off the train, and a Nazi spy intent on stealing Mrs. Odboddy's package. No quirky sidekick, no bumbling lawman, no one strung to the rafters. Just a hysterical, page-turning plot as Agnes embarks on another exciting adventure.
I love reading cozy mysteries, too, but please, new writer. Apply your writing skills and your imagination and come up with something that isn't quite the same trite story with different plug-ins. I have faith that with a little thought, you can do it.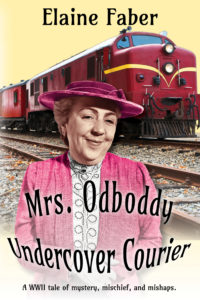 Asked to accompany Mrs. Roosevelt on her Pacific Island tour, Agnes and Katherine travel by train to Washington, D.C. Agnes carries a package for Colonel Farthingworth to President Roosevelt.
Convinced the package contains secret war documents, Agnes expects Nazi spies to try and derail her mission.
She meets Irving, whose wife mysteriously disappears from the train; Nanny, the unfeeling caregiver to little Madeline; two soldiers bound for training as Tuskegee airmen; and Charles, the shell-shocked veteran, who lends an unexpected helping hand. Who will Agnes trust? Who is the Nazi spy?
When enemy forces make a final attempt to steal the package in Washington, D.C., Agnes must accept her own vulnerability as a warrior on the home front.
Can Agnes overcome multiple obstacles, deliver the package to the President, and still meet Mrs. Roosevelt's plane before she leaves for the Pacific Islands?
Mrs. Odboddy: Undercover Courier is a hysterical frolic on a train across the United States during WWII, as Agnes embarks on this critical mission.
Thanks, Elaine, for taking us back to the tried-and-true Agatha Christie formula in your Mrs. Odboddy books.
How do you like your cozy mysteries-traditional or with a flare?