She's visited several times before, but I'm delighted to have author Lois Winston back again to my blog. Like me, shes a gal who likes to write humor, and she's an expert at it.
USA Today bestselling and award-winning author Lois Winston writes mystery, romance, romantic suspense, chick lit, women's fiction, children's chapter books, and nonfiction under her own name and her Emma Carlyle pen name. Kirkus Reviews dubbed her critically acclaimed Anastasia Pollack Crafting Mystery series, "North Jersey's more mature answer to Stephanie Plum." In addition, Lois is an award-winning craft and needlework designer who often draws much of her source material for both her characters and plots from her experiences in the crafts industry.
Here's what Lois says about humor and murder:
I write humorous mysteries. Writing humor in any genre is hard, but adding humor to something as serious as murder is a real challenge. I've sat through talks by various humorous mystery authors, many of whom I greatly admire, hoping to gain some tricks of the trade, but their talks are generally more about their journey to publication and less about the art of writing the humorous mystery.
Humor is very subjective. For one thing, there are many different forms of humor—off-color, droll, dark, deadpan, farcical, cerebral, ironic, sophomoric, satirical, situational, self-deprecating, slapstick, screwball, caustic—to name just a few of the more common ones. What one person thinks is laugh-out-loud funny, another will find devoid of humor, or worse yet, in poor taste. Are you a fan of Louis Black, or do you gravitate more towards Bill Maher? Do you love watching I Love Lucy reruns, or would you rather binge watch old episodes of Friends? Is Melissa McCarthy your go-to comedic gal, or do you prefer the romantic comedies of Meg Ryan and Tom Hanks?
My taste leans more toward cerebral, satirical, and situational humor. So that's the kind of humor I infuse into my Anastasia Pollack Crafting Mysteries. For me, the master of this type of writing is Alan Alda. I'd love to have the chance to sit down with him over dinner to pick his brain about writing humor. Just Alan and me. No cameras. No audience.
Disclaimer: I think M*A*S*H is the best sitcom ever shown on TV. I own the complete eleven-season DVD set. At least once a week I'll tune into a rerun on TV, and every few months I'll binge watch an entire season or two (or three or four or five!)
The episodes that Alan Alda wrote are my favorites. I've learned a great deal about writing humor from watching these episodes. It's like taking a master class without leaving the comfort of my couch. In the various M*A*S*H episodes Alan Alda wrote, he took something as serious as war and infused humor into the script while still maintaining the seriousness of the subject. He showed how humor helps people deal with the most difficult of situations. And he did it brilliantly. That's what I try to accomplish in writing my humorous mysteries.
Scrapbook of Murder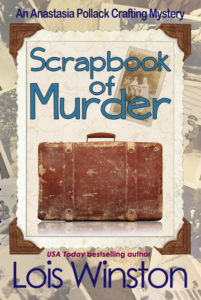 An Anastasia Pollack Crafting Mystery, Book 6
Crafts and murder don't normally go hand-in-hand, but normal deserted craft editor Anastasia Pollack's world nearly a year ago. Now, tripping over dead bodies seems to be the "new normal" for this reluctant amateur sleuth.
When the daughter of a murdered neighbor asks Anastasia to create a family scrapbook from old photographs and memorabilia discovered in a battered suitcase, she agrees—not only out of friendship but also from a sense of guilt over the older woman's death. However, as Anastasia begins sorting through the contents of the suitcase, she discovers a letter revealing a fifty-year-old secret, one that unearths a long-buried scandal and unleashes a killer. Suddenly Anastasia is back in sleuthing mode as she races to prevent a suitcase full of trouble from leading to more deaths.
Buy Links:
Kindle http://amzn.to/2ffIMgy
Kobo https://www.kobo.com/us/en/ebook/scrapbook-of-murder
iTunes https://itunes.apple.com/us/book/scrapbook-of-murder/id1286758416?mt=11
Nook https://www.barnesandnoble.com/w/scrapbook-of-murder-lois-winston/1127145157?ean=2940158851896
Paperback http://amzn.to/2y2Omhl
Website: www.loiswinston.com
Killer Crafts & Crafty Killers blog: www.anastasiapollack.blogspot.com
Pinterest: www.pinterest.com/anasleuth
Twitter at https://twitter.com/Anasleuth
Newsletter sign-up: https://app.mailerlite.com/webforms/landing/z1z1u5
Tell us: Do you like a little humor with your murder?