We've got two for one today.  Our guest blogger not only writes mysteries, but she also writes romance.  Seems like a perfect combination to me.  There's nothing like a little romance to make a murder sing.
NY Times and USA Today bestselling author Jennifer Skully is a lover of contemporary romance, bringing you poignant tales peopled with hilarious characters that will make you laugh and make you cry. Look for Can't Forget You, a new Cottonmouth adventure available now! She also writes as Jasmine Haynes, author of over 35 classy, sensual romance tales. Look for more in the sensual West Coast series; Book 5, Pleasing Mr. Sutton. She's also the author of the award-winning Max Starr psychic mystery series. She lives in the Redwoods in Northern California with her husband and their adorable nuisance of a kitten who runs the house. Visit Jennifer/Jasmine at www.jenniferskully.com and join her newsletter to find out about new releases http://bit.ly/NewsletterJS
Can murder be funny?
By Jennifer Skully
Thanks so much to Lesley for having me on her blog!
The goal of a comedy suspense writer is to make the reader laugh at inappropriate moments without feeling bad about it. I think you can have highly emotional moments interspersed with the laugh-out-loud ones as well.
Look at fabulous writers like Janet Evanovich and her Stephanie Plum series. What is it that's so funny? It's the characters, the way they think, the unusual things they do. There's Stephanie herself, of course, but the great cast of characters includes Grandma Mazur and Lula, both of whom totally slay me! It's what they say, how they think, and the reactions they have that are so hilarious.
Even before I fell in love with the Stephanie Plum series, I couldn't help writing characters that made me laugh under the strangest circumstances. My first comedy suspense, She's Gotta Be Mine, is set in the fictional Northern California town of Cottonmouth. Right there, even in with the name of the town, I couldn't help giving myself a chuckle. Of course, you might think of the snake. But I thought of the cottonmouth one might get from smoking illegal substances. And I peopled the town with people who made me laugh. Like Mavis, owner of the local diner, and Beau, gas station owner, and Wylie Meade, town mayor. They all gave me a chuckle while I was writing.
I never intended that first book to be a series, but I fell in love with the town sheriff, Brax, and I had to write his story, too, in Fool's Gold. Again, it was the characters that he met along the way that added the humor, not the murder and mayhem. I have to thank my brother-in-law for a lot of those characters. He lived in a little Nevada town, and the stories he told me filled more than a book! I used some of those characters in both She's Gotta Be Mine and Fool's Gold. And I've now published the third book in the series, Can't Forget You, where readers can catch up with the heroes and heroines from the first two books and meet a whole new cast of characters as well.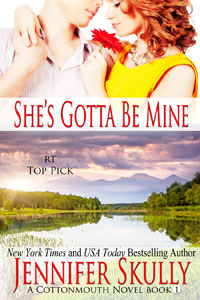 Here's where you can find She's Gotta Be Mine for FREE right now! Kindle  Kindle UK  Kindle CA  Nook  iBooks  iBooks AU  iBooks UK  Kobo  Smashwords  All Romance  Coffee Time Romance
Lesley says:  You can't beat FREE!  A great opportunity to make your toes tingle and test your sleuthing powers.