Author Judy Alter loves humor, but does she write it?  Her first book published was a cozy, but now her series has evolved.
About Judy Alter
The American West called to me during much of my career. I wrote particularly about women in the West because I admired their strength, courage, and adaptability. For many of them, the motto was always, "Come, spring…." Come spring, everything would be better. Maybe it was because I found myself, a displaced Chicagoan living in Texas. But eventually the characters of the western changed, the house I was writing for discontinued its program, and I moved on—to writing children's nonfiction as work-for-hire for companies that published books for school libraries.
The wish to write mysteries was long in my mind, but I thought someone else did that. Not me. Then I finally tried it, and jumped in with both feet. My latest publication is The Perfect Coed, a so-called academic mystery because it's set on a college campus but it includes some elements uncharacteristic of most campuses we hope—like murder.
The Difficulty of Writing Humor
by Judy Alter
Lesley has had several guest bloggers talking about writing humor. I thought I'd take a different approach and try to figure out why it's hard for me.
In the days I wrote fictional biographies of major women in the American West, I wrote a book about Etta Place, the Sundance Kid's paramour. Etta was always ready for adventure and often rode with the Hole in the Wall Gang as they robbed banks and trains. In researching, I found some downright funny times, like when she wanted to go back and get a ring she'd admired on a female bank customer. Sundance had to tell her no—firmly. One of my sons-in-law read that book and, according to my daughter, laughed aloud a lot. I was pleased and grateful.
Slapstick humor is not my goal, though I sometimes love it in other people's works, like some of Kay George's Duckworthy Mysteries or Bobbi Chukran's shorter pieces like "The Purloined Pork Roast." My kind of humor would be—at least I always told myself—a kind of wry, self-deprecating humor on the part of a first-person narrator.
When I started writing mysteries, I intended to write a first-person cozy, light and easy, maybe a humorous line here and there—no blood, violence, sex, etc. on-screen. And that's pretty much what Skeleton in a Dead Space turned out to be. I had also told myself if I had one mystery in print, I would be happy. Of course, that didn't happen, and I was busily writing sequels. There are now five, soon to be six, Kelly O'Connell novels, and I think each one got a bit darker, a bit less humorous. I would not call The Perfect Coed, my latest publication, a cozy—at best it's a traditional mystery. There is a violent, tense scene; the sex is a little more prominent; the danger is darker and move evil.
I've wondered about this switch from what I intended to be light-hearted romps through mysteries to something more serious. Perhaps I've become more comfortable with the mystery genre and felt less need to disguise it with humor. Still, I hope the wry comments, the odd moments of amusement, are still there.
Writing humor is definitely an art, and some people do it so naturally that it works well. Others, like me I'm afraid, try too hard and it seems forced. I'm wondering how readers feel about humor in mysteries. Do they look for it, welcome it? Or do they feel it takes away from the mystery itself. My own feeling is that's it's great in a cozy but out of place in a thriller. What do you think?
Follow me at Web page: http://www.judyalter.com; Blog: http://www.judys-stew.blogspot.com; Facebookk: https://www.facebook.com/pages/Judy-Alter-Author/366948676705857; Twitter: @judyalter; Goodreads: https://www.goodreads.com/author/show/5446.Judy_Alter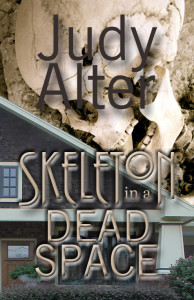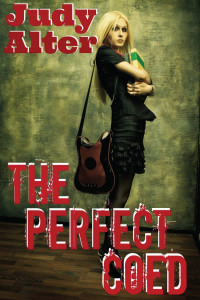 Judy has posed some ingteresting questions: Do you like humor in mysteries you read?  and Can humor work in a thriller?