I'm pleased to feature Patricia Gligor's newest book Desperate Deeds today on my blog.  This book is the third in her series about the Kern family.  Here's what she says about the book:
As Ann Kern starts her new business as an interior decorator, the temperatures have risen, tulips and daffodils are in bloom and there's a feeling of endless possibilities in the air. She has no idea that her world is about to be turned upside down.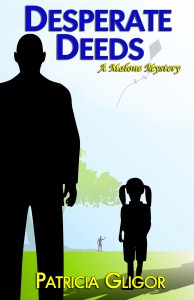 When Janis Riley, a woman for whom money is no object, contacts Ann to redecorate her house, Ann is elated. But her initial visit with her first client leaves her with mixed emotions. Why did Janis react so strangely to seeing a photo of Ann's six-year-old son, Davey?
But Ann has bigger problems. Her husband, David, a recovering alcoholic, has lost both his mother and his job and Ann worries that he'll start drinking again. To add to her concerns, their next-door-neighbor, Dorothy Baker, is severely depressed but Ann's efforts to help her are rebuffed.
Ann is terrified when she wakes up the day before Easter to find Davey gone. Another child, Kelly Kramer, has been missing since December. Does some pervert have both children and what, if anything, can Ann do to get her son back?
Patricia is a Cincinnati native. She enjoys reading mystery/suspense novels, touring and photographing old houses and traveling. She has worked as an administrative assistant, the sole proprietor of a resume writing service and the manager of a sporting goods department but her passion has always been writing fiction.
Mixed Messages, Unfinished Business and Desperate Deeds, the first three novels in her Malone Mystery series, are available at amazon.com, postmortem-press.com and B&N.
Buy link:
http://www.amazon.com/Desperate-Malone-Mystery-Patricia-Gligor-ebook/dp/B00JARB2DS/ref=la_B007VDDUPQ_1_1?s=books&ie=UTF8&qid=1403701127&sr=1-1
Visit her website at: http://pat-writersforum.blogspot.com/