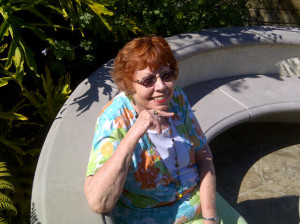 Yes, she's doing yet another blog tour because, yes, she's got yet another book out.  And I am honored to be one of her blog stops. This woman leaves me breathless with the number of books she writes and her enthusiasm for promoting them.   If the energizer bunny had a human face, I think it would be Marilyn's because she writes two mystery series and seems to have a limitless number of ideas for her work.  I asked her to talk about where she gets her ideas, for she appears to have an endless supply of them to use in her books.  Here's what she said:
Where I Find Fresh Ideas
By F. M. Meredith
Because I'm writing a police procedural series, I'm always looking for crimes, especially murders, that are a bit on the unusual side that I can somehow fictionalize to use in a mystery. Over the years, I've collected newspaper and magazine articles and kept them in a folder. If I haven't thought up something on my own, I go through them to see if something pops out at me.
I live in a small town and read the list of crimes in the newspaper to see if any will fit into the Rocky Bluff P.D. series. After all, my police officers need to investigate other things besides murder.
Sometimes something from a long time ago will spark an idea. In my latest RBPD, Violent Departures, flower children from the '60s and Charlie Manson gave me clues for the main plot.
Research I did for another book might be exactly the right touch for a new story. That happened in this latest book too. I don't want to get into it too much as it might give away an important twist—but suffice it to say it has something to do with the supernatural.
Some ideas are sparked by an overheard conversation. I confess to being an eavesdropper. Love conversations in restaurants. Nowadays people make it easy by talking about personal things on their cellphones.
Once in a while, I've even dreamed about my characters and remembered enough to incorporate some of the dream into my writing.
To be honest, ideas are everywhere, in the news, on the Internet, and if you pay attention to what's going on around you.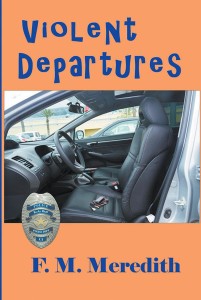 Blurb for Violent Departures:
College student, Veronica Randall, disappears from her car in her own driveway, everyone in the Rocky Bluff P.D. is looking for her. Detective Milligan and family move into a house that may be haunted. Officer Butler is assigned to train a new hire and faces several major challenges.
Bio:
F.M. Meredith, also known as Marilyn Meredith, is the author of over thirty published novels. Marilyn is a member of three chapters of Sisters in Crime, Mystery Writers of America, and on the board of the Public Safety Writers of America. Besides having family members in law enforcement, she lived in a town much like Rocky Bluff with many police families as neighbors.
Contest:
Because it has been popular on my other blog tours, once again I'm offering the chance for the person who comments on the most blog posts during this tour to have a character named for him or her in the next Rocky Bluff P.D. mystery.
Or if that doesn't appeal, the person may choose one of the earlier books in the series—either a print book or Kindle copy.
Buy link for Violent Departures:  http://tinyurl.com/jvmubw5
Links:
Webpage: http://fictionforyou.com/
Blog: http://marilynmeredith.blogspot.com/
Facebook: https://facebook.com/marilynmeredith
When to Think About Promotion is the topic tomorrow at http://www.lindathorne.com/blog/