Several weeks ago I wrote in a blog that I inserted serious issues into my cozy mysteries indicating that I wanted my work to be more than "fluff".  I then invited other writers of cozy mysteries to visit this blog to talk about how they used serious themes in their work.
Today author Lynn Cahoon is back for a visit to talk about one of her mysteries.
In If The Shoes Kills, Lynn Cahoon deals with the issue of domestic violence.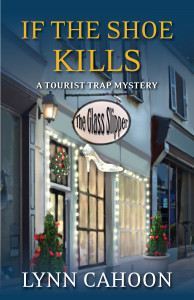 Here's what Lynn says about domestic violence and why it is important to her in her work:
Domestic abuse is a subject I've dealt with as a child as well as in my first marriage. We live what we know. I spent many years working with families in crisis in programs that provided financial assistance, medical help, and counseling. If the Shoe Kills melds my past work experience with a woman on the run. Marie Jones is someone who thought she'd left her past behind, until he shows up in the idealize little town of South Cove where she'd finally put down roots. Jill Gardner, my amateur sleuth, has her hands full trying to put on her first Thanksgiving with the new boyfriend, along with making sure the mayor's new work experience program stays solvent. 
Are serious issues part of your writing?  If so, how do you insert them into your work?  Leave a comment.