Well, you won't really be touring the swamps, but my new book blog tour will introduce or reintroduce you to Emily Rhodes, another country gal who not only finds a home in rural Florida, but stumbles over dead bodies too frequently.
The tour will feature two Big Lake murder mysteries: Dumpster Dying and Grilled, Chilled and Killed.
Dumpster Dying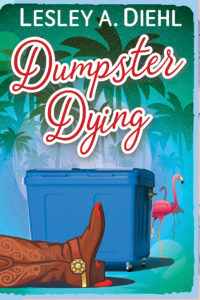 Ah, the golden years of retirement in the sunshine state.  They're more like pot metal to Emily Rhodes, who discovers the body of the county's wealthiest rancher in the Big Lake Country Club dumpster.  With her close friend accused of the murder, Emily sets aside her grief at her life partner's death to find the real killer.  She underestimates the obstacles rural Florida can set up for a winter visitor and runs afoul of a local judge with his own version of justice, hires a lawyer who works out of a retirement home, and flees wild fires hand-in-hand with the man she believes to be the killer.
"…a snappy plot with humor and a feel for old Florida…an entertaining story set among ranches instead of beaches…With a colorful cast of family and friends, (Emily Rhodes) solves both murders and gains two admirers. Emily learns to love the wilds of Florida. The reader will too.
–Jan Day, author of The Pirate Pink series and The Kissimmee Pete series
"It's a contest of  "wills"… Retirement in sunny Florida heats up when Emily Rhodes finds a body tossed in the trash. Things are never dull with a senior sleuth on the case. Deadly and delightful!:
–Sunny Frazier, author of the Christy Bristol Astrology Mysteries
Grilled, Chilled and Killed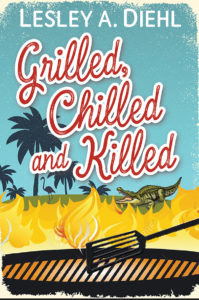 In the second Big Lake Mystery, Emily Rhodes, retired preschool teacher and bartender turned amateur snoop, wonders if she is destined to discover dead bodies. This time she finds one of the contestants at the local barbecue cook-off dead and covered in barbecue sauce in a beer cooler. She should be used to stumbling onto corpses by now and the question of who killed the guy should pique her curiosity, but Emily decides to let Detective Lewis handle this one, at least until she figures his theory of who did the deed is wrong, wrong, wrong. Emily's pursuit of the killer could end in a steamy shower with her favorite detective or land her in a sinkhole with a dirty cop and an angry mama pig.
"…a wonderful combination of mystery, murder and mirth. The most recent novel in her Big Lake mystery series has it all: an intriguing plot, a cast of colorful characters, a vivid rural Florida setting and a dash of romance intertwined with humor every step of the way." –Patricia Gligor, author of The Malone Mystery Series
"Lesley Diehl's new southern mystery has it all, suspense, intrigue, romance and a killer title, Grilled, Chilled and Killed." –Michael Murphy, author of Goodbye Emily
"…Lesley Diehl has done it again with a story too good to put down. Emily Rhodes works part-time at a country club cocktail lounge, but Diehl is the one mixing the best cocktail whose ingredients consist of mystery, humor and romance, and of course, murder. Slip in a crooked cop, a barbeque cook-off, a shady character in the background and a feral pig, and you'll have a delightful day of reading. Trust me on this one." –Marja McGraw, author of the Sandi Webster and Bogey Man Mysteries
Here's the schedule for the tour. Be sure to visit each stop and enter for a free book and the and the opportunity for me to name a character after you in the next adventure with Emily Rhodes. You could be famous!
Tour Participants
May 15 – The Ninja Librarian – REVIEW – Book 1, CHARACTER GUEST POST
May 15 – My Journey Back –My Reading Journeys – REVIEW – Both Books, INTERVIEW*
May 16 – Queen of All She Reads – REVIEW – Both Books
May 16 – Dee-Scoveries – SPOTLIGHT
May 17 – Valerie's Musings – REVIEW – Both Books, INTERVIEW
May 17 – Babs Book Bistro – SPOTLIGHT
May 18 – A Blue Million Books – GUEST POST
May 18 – Book Babble – REVIEW – Both Books
May 19 – Sleuth Cafe – SPOTLIGHT
May 19 – Bookworm Mom –  GUEST POST
May 20 – Texas Book-aholic – REVIEW – Book 1
May 20 – 3 Partners in Shopping, Nana, Mommy, & Sissy, Too! – REVIEW – Both Books *
May 21 – Books,Dreams,Life – SPOTLIGHT
May 21 – Island Confidential – CHARACTER INTERVIEW
May 22 – Laura's Interests – REVIEW – Both Books, CHARACTER GUEST POST
May 23 – FUONLYKNEW – REVIEW – Both Books*
May 24 – StoreyBook Reviews – REVIEW – Both Books
May 24 – T's Stuff – REVIEW – Book 1
May 25 – Bibliophile Reviews –  REVIEW – Both Books
May 25 – Celticlady's Reviews – SPOTLIGHT
May 26 – Rainy Day Reviews – REVIEW –  Both Books*
May 26 – Socrates' Book Reviews – REVIEW Book 1
May 27 – Varietats2010 – REVIEW – Book 2
May 27 – Brooke Blogs – REVIEW Book 1, GUEST POST*
May 28 – Brooke Blogs – REVIEW Book 2*
May 28 – Cassidy's Bookshelves – CHARACTER GUEST POST