Today I have something different on my blog: a YA author. I admire those who write for teens and young adults because I think it is not easily accomplished, and B.  K. Stevens tells us about the issues of writing for this audience..
B.K. (Bonnie) Stevens has published over fifty short stories, most of them in Alfred Hitchcock's Mystery Magazine. Her stories have won a Derringer and have been    nominated for Agatha and Macavity awards. She's also the author of Interpretation of Murder, a traditional whodunit that offers readers insights into Deaf culture, and Her Infinite Variety: Tales of Women and Crime, a short story collection.  An English teacher for many years, B.K. lives in a central Virginia town similar to the one in Fighting Chance. Her husband, a fifth-degree black belt, choreographed all the martial arts scenes in the novel.
B.K. Stevens: YA Mystery Meets Jane Austen?
Writing for young adults is tricky. It's easy to make mistakes that turn teenaged readers away. If high-school jocks talk like middle-aged college professors, readers will snicker.  But if the author uses slang in a way that seems patronizing, they'll feel offended. And they won't like it if they think the author's preaching to them. As a mother, a grandmother, and a long-time teacher, I have plenty I want to say to young people, but I have to be careful about how I say it. That's especially important when it comes to sensitive issues—for example, love.
Fighting Chance is my first (and so far only) mystery for young adults. I started toying with the idea of writing a YA mystery when I was teaching high-school English in Cleveland. I especially wanted to write a book that would appeal to boys: Finding outside reading novels to recommend to girls was easy, but finding ones boys could tolerate was tough. Almost every time I tried to interest a male student in a book, he'd respond with a question straight out of The Princess Bride: "Has it got any sports?" So I made my protagonist a seventeen-year-old boy who loves basketball and martial arts but doesn't much care for English. I included plenty of action—a tae kwon do tournament, a suspicious death during a sparring match, martial arts classes, a dangerous mission to spy on an illegal fight club, a chase, close calls, real-life clashes. All that, I thought, should help keep boys turning pages. After some hesitation, I decided to include love as well.
I knew it'd be risky. (Remember how the boy in The Princess Bride responds the first time Wesley and Buttercup kiss?) Most teenaged boys aren't big fans of tender romantic scenes, and I definitely didn't intend to write erotica. But I think it's worthwhile for books written for boys to say something about love, about what it is and what it isn't. I decided to give my protagonist, Matt, a romantic dilemma similar to the ones the protagonists in many Jane Austen novels face. He's attracted to two girls, Suzette and Graciana, and has to work toward a better understanding of them, and of himself. That's not the central element in the novel—the mystery is central, and Matt's increasing mastery of a martial art called krav maga—but it's important.
So I gave it a try. Usually, I avoided statements about love (or relationships, if that's a more appropriate word) and stuck to narrative, hoping young readers would draw their own inferences. Once, for example, Matt spends an evening with Suzette in one chapter, an afternoon with Graciana in the next. I hope young readers will contrast the two scenes and realize one conversation is superficial and merely flirtatious, while the other involves real communication; I hope they'll realize one girl wants to date Matt primarily because he's a basketball star, while the other's genuinely interested in him as a person. Toward the end of the novel, Matt realizes that himself. When he ends things with the superficial girl, a friend is surprised. "I thought she really liked you," he says. Matt replies, "She doesn't even know me. We've gone out twice, and we haven't spent one minute talking about anything real." Matt's gained new insights into the girl, and into what truly matters in a relationship. I hope young readers learn along with him.
I also tried to make Matt a role model for young men (though I'd never admit that if I were talking to a group of teenagers—sounds preachy). At one point, after he's gone to a movie with the superficial girl and feels a powerful physical attraction to her, he suggests going out for ice cream. She has a different plan:
"Or we could go to my house." She gave me a sly little smile. "We've got plenty of ice cream, and we've got a really nice family room in the basement."
That sounded interesting. "Okay," I said, putting my arm around her shoulder again.
Clearly, Matt's tempted by the prospect of spending time alone with a girl who's very pretty and seems very willing. But when they walk out to the parking lot behind the theater and discover his car has been vandalized, when he gets caught up in the central mystery again, he realizes it would have been a mistake. He takes her home and leaves after one goodnight kiss, and he isn't sorry:
Frankly, I felt relieved. Nice as she looked, and good as it'd felt when she nestled against me, I was ready for the date to end. . . . Ever since we'd seen the car, I'd focused on figuring things out, not on her. That meant I probably didn't have special feelings for her yet, and that meant I didn't have any business going to her family room for ice cream and whatever. Time to take a break and get my head clear.
Matt's not perfect, and he still has a lot of growing up to do. He's a basically decent guy, though, and he realizes it would be wrong to get physical with a girl he doesn't have "special feelings" for.
By the end of the novel, Matt also reaches some other realizations about relationships—he never states them outright, but I hope his actions make his new insights clear. He realizes that love should be rooted in respect for someone's character and intellect, and that people who love each other can disagree with each other, learn from each other, help each other grow as human beings. Will young readers who share Matt's experiences reach the same realizations? That's a lot to hope for. But I think our characters are influenced by the things we read—I think that's especially true when we're young, and I think that means people who write for young readers have a special responsibility to make sure any messages their books send are positive. If Fighting Chance plays even a small role in reinforcing some of the positive messages young people receive from their parents, their places of worship, and their schools, I'll be more than satisfied.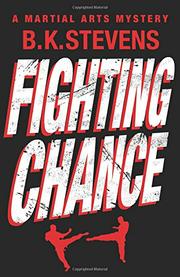 Blurb:
When seventeen-year-old Matt Foley's coach and mentor is killed in a sparring match at a tae kwon do tournament, the police decide it was a tragic accident. Matt's not so sure. With help from a few friends, including the attractive but puzzling Graciana Cortez, Matt learns the coach's opponent, Bobby Davis, is a brutal, highly skilled martial artist, the central attraction at an illegal fight club. Now, Matt's convinced someone hired Davis to murder the coach. But who would want to harm the coach, and why do it at a tournament? Matt's efforts to find the truth pull him into some dangerous conflicts. To improve his self-defense skills, he joins a krav maga class taught by a man who becomes his new mentor. Matt suspects that he's going to need those skills, that some day he'll have to face Bobby Davis himself.
Fighting Chance was published by Poisoned Pen Press. It was a finalist for the Agatha award for Best Young Adult Mystery and is now a finalist for the Anthony in the same category.
Available at: Amazon Kobo Barnes & Noble