Eve Appel, sassy gal sleuth from A Secondhand Murder will be making a second appearance soon in Dead in the Water, to be released by Camel Press in July.  To celebrate her newest adventures in the swamps of Florida, I designed a contest for my readers and for those who might like to become a reader.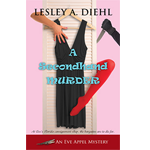 Many of you know that I am addicted to secondhand items that I buy at yard sales, garage sales, estate sales and in consignment shops (and I've even picked up some items along the road for free).  I seem to have inherited restore, rehabilitate, redesign and reuse genes from my paternal grandmother, the queen of never buy new.
So here's what you need to do.  Look at the pictured items below and decide which one you think I bought new.  Put your selection in the comments section below, and make your comment with your answer before July 4.
I will take all those who made the correct choice and put them into a raffle.  The winner will receive a print copy of  A Secondhand Murder.  You are allowed only one choice.  Easy, yes?  You might be surprised.
Next week on my blog I will provide you with the right answer as well as the history or interesting tale behind the items I bought secondhand.
Good luck.
I'll be revealing the cover of  Dead in the Water as well as a blurb about the book in the coming weeks here on the blog.  Stay tuned.