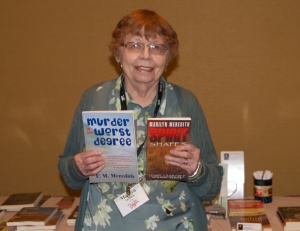 Marilyn Meredith will tell you she loves writing, but she'll also tell you she loves her family and that she believes in a balanced life.  In a recent blog she confessed to slowing down a little recently and not travelling as much as she used to, but that certainly has not affected her writing.  She is the author of over thirty-five published novels, including the award winning Deputy Tempe Crabtree mystery series, the latest River Spirits from Mundania Press. Marilyn is a member of three chapters of Sisters in Crime, Mystery Writers of America, and on the board of the Public Safety Writers of America. She lives in the foothills of the Sierra. Visit her at http://fictionforyou.com and her blog at http://marilymeredith.blogspot.com/
Marilyn is presently on a blog tour to promote her newest book, River Spirits.  Today she talks about her characters and how she develops them.  You know what they say, cross a mystery author and you'll end up as the dead body in her next book!  Is that really true?  Or is it true that mystery writers make themselves into their protgagonists?  Read on:
How Real Are Tempe and Hutch?
by Marilyn Meredith
In case you don't know who they are, Deputy Tempe Crabtree is the main character in this mystery series. Her husband is Pastor Hutch Hutchinson.
My first answer is they are as real as anyone I know.  And unlike most folks in my own life, I know what these two think.
I have a hunch though, that Lesley wanted to know if these two might be patterned after anyone in my life.  The answer isn't all that simple.
Tempe is a combination of three strong women that I've met along the way. One, a resident deputy who worked in the mountain area where I live. Two, the only female officer in the small department in the next town. Three, a beautiful Indian who grew up on the nearby reservation , served as a Marine and has excelled at many other occupations. Tempe looks much like this terrific woman.
Much of Hutch comes from several preachers of small churches I've known who are committed to preaching from the Bible and truly minister to their flocks, and are partners to their spouses.
With both characters, I've tried to keep them true to their beliefs and personalities while showing the kind of growth and change I believe would happen as they face the problems of both their jobs and conflicts that come up along the way.
And no, Tempe is not like me except in some minor ways nor is Hutch like my husband.
While filming a movie on the Bear Creek Indian Reservation, the film crew trespasses on sacred ground, threats are made against the female stars, a missing woman is found by the Hairy Man, an actor is murdered and Deputy Tempe Crabtree has no idea who is guilty. Once again, the elusive and legendary Hairy Man plays an important role in this newest Deputy Tempe Crabtree mystery.
Contest: The winner will be the person who comments on the most blog posts during the tour.
He or she can either have a character in my next book named after them, or choose an earlier book in the Deputy Tempe Crabtree series—either a paper book or e-book.
And tomorrow I'm on Sharon Moore's blog talking about food in the series.
http://sharonauthormoore.blogspot.com/
From the publisher, all formats:
http://mundania.com/book.php?title=River+Spirits
For Kindle:
http://www.amazon.com/River-Spirits-Tempe-Crabtree-Book-ebook/dp/B00O3R83TQ/ref=sr_1_1?s=books&ie=UTF8&qid=1412345856&sr=1-1&keywords=River+Spirits+by+Marilyn+Meredith
Amazon paperback:
http://www.amazon.com/River-Spirits-Marilyn-Meredith/dp/1606594117/ref=sr_1_1_title_1_pap?s=books&ie=UTF8&qid=1412900595&sr=1-1&keywords=river+spirits+by+marilyn+meredith
For Nook
http://www.barnesandnoble.com/w/river-spirits-marilyn-meredith/1120425385?ean=2940150347090