I'm so pleased to have Linda Reilly visit my blog today.  Until I read her guest blog I had no idea that she and I have so much in common especially our bent for naming our characters after family members.  And then, of course, she nicknames her protagonist "Apple!"  Are you listening to that Eve Appel?
Please welcome Linda who, as you will find out, hasn't yet become fully comfortable with being a little weird.  I thought all writers were weird!
My family members occasionally tell me I'm "weird" and a "little out there." Mind you, these are my loved ones—the ones who care most about me. Somehow, out of all of the weirdness, I managed to dream up a batch of characters to populate my first cozy mystery.
When I first decided to write a cozy, I wanted my main character to have a job much like mine. That would plunk me firmly in my comfort zone (yay!) and give me lots of fuel for the plot. In my day gig I work as a paralegal of sorts for a title insurance company. Examining titles is a huge part of the job. The Registries of Deeds, where all evidence of land ownership is recorded, is where I spend a chunk of time every day doing on line research.
So my main character would be a paralegal, I decided, and be an expert title examiner. Except that she would work for a tiny law office, not a big company. And she would live in a charming fictional town in New Hampshire called Hazleton.
I named my main character Apollonia Mariani. Apollonia is from The Godfather (to this day, my favorite movie). Mariani was the maiden name of my great-grandmother. Originally I nicknamed my character Polly. It was perfect, right? Until a friend tactfully pointed out that Polly sounded too stodgy for a thirty-something. "Why don't you call her Apple?" she suggested. Well, darn, why hadn't I thought of that?
So Apple she was, but she still needed a sidekick. Maybe an eccentric aunt who could drive her crazy, but still be her primary support system? Ah, here was my chance to poke a bit of fun at my own personality quirks.
If any character is most like me, it's Apple's Aunt Tressa. Tressa is terrified of spiders. I have a bug phobia. She adores the Beatles. I worshipped them as a teen. Tressa often indulges in comfort food, but never gains an ounce. I . . . oh wait, I guess we differ there. I've packed on plenty of "ounces" from all the comfort foods I've eaten.
The mini-dramas I created for Tressa in Some Enchanted Murder were some of the most fun scenes to write. Like me, she had a touch of that "weirdness" about her.
A read a quote once that really grabbed me, but I cannot recall where I saw it. It went something like this: "Don't worry if people think you're cracked. That's how the good stuff gets in."
I try to remember that whenever my "weirdness" starts seeping through.
Linda Reilly grew up in the Berkshires, and spent the bulk of her career in the field of real estate closings and title examination. In 1995, Woman's World Magazine accepted her first short mystery for publication. Since then she's had over forty short stories published, including a sprinkling of romances. In 2013 Five Star Publishing released her first full-length mystery, Some Enchanted Murder. Her first mystery in the Deep Fried series will be released by Berkley Prime Crime in 2015.
Linda lives in New Hampshire with her husband, who's been known to call her "Nose-in-a Book."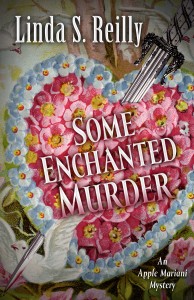 Some Enchanted Murder is available at many local libraries, or through the following links:
http://www.amazon.com/Some-Enchanted-Murder-Five-Mystery/dp/1432826816/ref=sr_1_1?s=books&ie=UTF8&qid=1406491901&sr=1-1&keywords=some+enchanted+murder
http://www.barnesandnoble.com/w/some-enchanted-murder-linda-s-reilly/1113898645?ean=9781432826819
It is also available on Kindle.
Visit Linda's website at: www.lindasreilly.com