Here's an author after my own heart.  She writes humorous mysteries, she's an expert and has published books on some of my favorites like Agatha Christie and Sherlock Holmes, and she has the soul of an environmentalist.  Kathleen Kaska writes the award-winning Sydney Lockhart Mysteries. Her latest book, Murder at the Driskill, has just been released. Her two books, Murder at the Arlington and Murder at the Luther, were Pulpwood Queens (largest book group in the country) bonus-books. She also writes the Classic Mystery Triviography Series, which includes The Agatha Christie Triviography and Quiz Book, The Alfred Hitchcock Triviography and Quiz Book, and The Sherlock Holmes Triviography and Quiz Book. The Hitchcock and the Holmes books were finalists for the 2013 EPIC award in nonfiction. Her nonfiction book, The Man Who Saved the Whooping Crane: The Robert Porter Allen Story was published by University Press of Florida in 2012.
When she is not writing, Kathleen spends much of her time with her husband traveling the backroads and byways around the country, looking for new venues for her mysteries and bird watching along the Texas coast and beyond. It was her passion for birds that led to the publication The Man Who Saved the Whooping Crane.
Like me, Kathleen thinks writing humor amuses not only the reader but also the writer.  Read more about what she says:
What's So Funny About Murder?
Nothing's funny about murder; however, writing about it with a humorous twist is just plain fun. That's why humor finds its way into many murder mysteries just like humor finds its way to funerals, crash sites, hospitals rooms, etc. It's not that these situations are funny, but humor counteracts the bad times we all experience.
I did not plan on writing humor mysteries, but I do remember the exact moment it happened. My husband and I were spending the week of Thanksgiving at the Arlington Hotel in Hot Springs, Arkansas. At the time I was pulling together some ideas for my second serious mystery in my animal rights series. Soon after unpacking, the plot came to me, and by the end of my stay, I had the entire story lined out. But the ideas didn't stop there.
On the long drive home, feeling happy about my accomplishment, I got another a brainstorm. What would happen if I'd checked into my room at the Arlington Hotel and found a dead body in the bathtub? How would I react? How would most people react? A character began to form and I watched as she made herself at home in that room, unpacked, and started to plan her week. Then she noticed the housekeeper had not cleaned the bathroom. Slimy soap sat in the dish, damp towels lay on the floor, and worst of all, a hairy leg was draped over the edge of the bathtub. She jerked the shower curtain back, and sure enough, a man lay in a pool of blood—his throat had been cut. Nothing funny about that, but instead of becoming hysterical, my character got angry. How dare this guy put a damper on her trip?
When the police arrived and told her to move to another room, she refused. This was the room she wanted and this was the room she was staying in. I had to come up with a reason why room 1116 was so important to this spunky, sassy young woman. To find out what I decided, you'll have to read the book, Murder at the Arlington, my first Sydney Lockhart mystery.
Writing that first mystery, I wasn't sure the humor would work. But when many readers commented that they laughed out loud while reading it, I knew I'd pulled it off. Murder is bad business, but making people laugh simply feels good.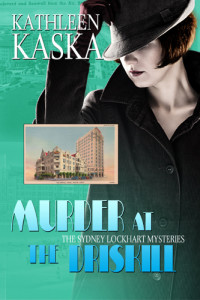 Here's a little taste of Murder at the Driskill.
Changes are happening fast and furious for reporter Sydney Lockhart and her detective boyfriend, Ralph Dixon. No sooner than they open their new detective agency, a high-profile case walks through the door. Stringer Maynard, an influential Austin businessman, wants business partner/brother-in-law, Leland Tatum, investigated before Tatum's campaign for governor begins. Seems Tatum has been keeping company with an avante garde crowd whose activities might jeopardize his chances of winning the election.
Maynard invites Sydney and Dixon to the famous Driskill Hotel for Tatum's formal campaign announcement. Before they even meet the candidate, a gunshot sends them hurrying into the next suite where they discover Tatum has been shot and killed. Suddenly their professional services turn to a murder investigation. As the suspect list grows, Sydney acquires an unwanted partner Lydia LaBeau, a twelve-year-old daughter of one of the potential murderers. To assist Sydney in clearing her father's name, Lydia dresses up like Sherlock Holmes and begins to collect her own bag of evidence. Although much to Sydney's annoyance, Lydia proves to be the smarter detective.
Buy link:
Visit her website and blog: