What an odd topic for a blog that's supposed to be about my plans for 2017, but my plans are all wrapped up in listening to what my dreams are telling me. I'll bet your dreams do the same for you although you may or may not realize it.
I am finishing the final manuscript in the Eve Apple mysteries with a March 1 deadline to my publisher. When I tried to write my usual this-is-what-I-call-an-outline-but-will-violate-it outline this summer, I found I could not do it. I struggled with it for several weeks and then, realizing that the time had come for me to be writing, I plunged into the manuscript itself, no outline. Before I signed my contract for the Eve Apple series, I never used an outline, but with my publisher's deadlines, I decided the emotional safety net of knowing where I was ultimately headed would make the writing easier. And it did. Until now. I shrugged and decided I would go back to being a pantser for this one.
The Eve Apple mysteries have evolved into a more complex set of whodunits than when I began the series. I intended to write Eve as a sassy, nosey, Northeasterner come south to rural Florida, a woman truly out of her element. She is that, but I did not know just how adaptable she would prove to be or how completely she would embrace living in the South. Eve had family (her equally spunky Grandy), her best friend from childhood (Madeleine) and a current squeeze (Alex), a mob boss (Nappi Napolitani), a local detective (Frida), and her ex-husband (Jerry). Soon the locals found Eve, or she found them, and the fun began, often punctuated by adventures in the swamps that usually ended with the capture or demise of the bad guys and a few bad gals. Background characters such as two Miccosukees, Grandfather Egret and his son Sammy, marched center stage and deepened Eve's understanding of her adopted home and of herself.
To say I like Eve would be understating my feelings about her. I admire and passionately adore this woman. I want her to be my friend.  She is courageous—I've tested that in every book—snoopy to the point of being plain annoying—funny, smart and generous to those she loves. So, I wondered to myself, with a character and a setting I like, why am I struggling so with this final manuscript? And I am. It wasn't only the outline that was difficult for me. Writing this book is painful. Part of the problem is that everything I write including the Eve Appel mysteries is about family, usually about family lost, family found, crazy family members, rejecting mothers, absent fathers, family secrets—the contemporary dysfunctional family. Mostly I write about how my characters are forced to redefine family. In this manuscript, all of these themes apply along with the question of what is real and what is delusion to a woman who is mentally ill. I guess none of this is surprising. I was educated and trained as a psychologist. The issues of mental health, and especially the family (my focus in graduate school was developmental psychology) are important to me. The difficulty in trying to infuse my background into a fictional work is how to do it honestly without losing the science and the application but without inundating the reader with jargon and overwhelming clinical analysis. None of my characters has a background in mental health so they can only speak from their experience, but that dialogue and understanding is crafted by me. Incorporating mental health issues into the manuscript so that it is genuine and readable and balancing all that with humor which continues to be a part of the Eve Apple mysteries has been my difficult task.
This is what has kept me awake at night. Or so I thought until the other night, when I finally fell asleep and had one of my "anxiety" dreams. Maybe you have these too. My husband has them, and they take much the same form as mine. Yours may be different. The dreams are about college, graduate school or about my years as a college professor. Here's my most recent one: It is the present day, but for some reason I have enrolled in classes for my undergraduate degree. I have my doctorate, but for some reason I must redo my BA. I have four classes, but it is the end of the semester and I have attended only three of them and cannot locate my books to read for the other three. Final exams are only days ahead. Another common one is that I am teaching a college course, but have never shown up for the class, don't know when it meets or where, and my students expect their final grades. Or I'm back in graduate school, trying for another degree and am not making the grade. The details vary from dream to dream, but the theme and underlying emotional landscape are the same. The details and content of the dreams are unimportant. They only occur at times when my anxiety level is high, and their message of failure is a signal that what I'm trying to accomplish just can't be done.
After awakening from my dream, I realized how anxious I was about how to construct my final Eve Appel story. But I had a further insight. Given how much I have loved creating Eve and her adventures, I must now say goodbye to her. I can handle the difficulty of how I construct this story, but what is more difficult is saying goodbye to Eve, understanding this is my last opportunity to engage with Eve, her family and friends. That ending means that I must find some way to begin again, and I am uncertain where I go from here. That's the anxiety that remains even after I conquer the problems of writing this manuscript.
I have a few ideas, perhaps enough to ward off too many of these unpleasant dreams. I know for certain that I will write another Aunt Nozzie story. Some of my friends are encouraging me to write Aunt Nozzie into a book length story. Maybe, but I like her in shorter work.
My agent asked me where I go from here and suggested I take a look at what kinds of cozies are selling and to whom. Maybe, but unless I can make those ideas my own it feels too much like writing by committee.
I have several two books series that need a third book in them. Maybe, but that sounds like the same old, same old.
There are two unfinished manuscripts sitting on my computer. Another maybe.
Too many choices? Probably. Darn. I think I need a Harry Potter sorting hat.
Not to worry too much. The solution always comes to me. Maybe in a dream?
Are your dreams important to you? Do they tell you something important about your waking life?
Just ahead in 2017:
Old Bones Never Die, the fifth book in the Eve Apple Mysteries, out March 15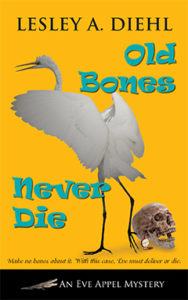 Just before Walter Egret is killed in a hit-and-run, he phoned his half-brother Sammy to tell him he'd unearthed their missing father's pocket watch, along with a pile of human bones. The project is put on hold until it can be determined if the site is an Indian burial ground. Then the bones disappear.
Now Sammy and his brother's three orphaned children want Eve Appel to go pro, applying her innate snoopiness to the trade of private investigator.
Eve already has her hands full with her two consignment stores. What is she going to do? Sammy and Walter are Miccosukee Indians, and Walter was employed as a backhoe operator on a construction site for a sportsmen's resort. Was Walter's death murder or an accident? If the bones belong to Sammy's father, how did they get there? Delving into these mysteries, Eve is aided by her usual crew of friends and family. This adventure will not only up the stakes for Eve as an investigator, but it will also open her eyes to life possibilities she never imagined.
pre-purchase link: https://www.amazon.com/Old-Bones-Never-Appel-Mystery/dp/1603813179/ref=sr_1_1?ie=UTF8&qid=1484511860&sr=8-1&keywords=old+bones+never+die