I am so pleased Joanne got in touch with me and was willing to do a guest blog today. You'll find her thoughts on quilting and writing interesting.
In 2008, Joanne Guidoccio retired from a 31-year teaching career and launched a second act that tapped into her creative side. Slowly, a writing practice emerged. Her articles and book reviews were published in newspapers, magazines, and online. When she tried her hand at fiction, she made reinvention a recurring theme in her novels and short stories. A member of Crime Writers of Canada, Sisters in Crime, and Romance Writers of America, Joanne writes cozy mysteries, paranormal romance, and inspirational literature from her home base of Guelph, Ontario.
On Quilting and Writing
by Joanne Guidoccio
It was one of those spur-of-the-moment ideas that came out of nowhere. But thinking back, I do recall hearing about the "Quilts on the Grand Show" for several weeks before the actual event. The advertisements appeared in local papers, and several establishments—including the library branches—proudly displayed the work of these talented artisans.
When I found myself with several free hours on a Saturday afternoon in early spring, I headed up to Fergus, a short thirty-minute drive away. Having never quilted, I didn't anticipate spending too much at the show and planned on visiting other shops in the area.
One hour maximum and I'd be on my way.
Pulling up into the parking lot, I had to circle twice before finding an empty spot. When I entered the building, I found the foyer bustling with activity. Later, I learned that some attendees had traveled 300 miles to see this show.
As I walked around the auditorium, I felt dwarfed by the bed-sized quilts, wall hangings and other pieces that made up the 160 items on display. And I was in awe of the extraordinary workmanship displayed by the 140 artisans, one of whom was a ten-year-old junior member!
I stayed for the entire afternoon and circled the room several times, stopping to admire and take pictures of my favorite quilts. I also chatted with several artisans who shared their techniques. As I listened, I discovered many similarities between quilting and writing.
Like the three-act story, there is a definite three-step process to quilting: beginning (preparing and cutting the fabric), middle (piecing, batting, and binding), and end (quilting it all together).
A quilt is made one piece at a time, just as a story is written one page at a time.
While many quilts have established patterns (Log Cabin, Wedding Ring, Lone Star), some are combinations of patterns or original designs. The same applies to stories. Some authors prefer to write in one specific genre (romance, mystery, fantasy) while others (myself included) prefer to cross several genres.
Quilters play with color, texture, and composition in the same way that writers play with setting, characters and plot.
Quilters can be nitpickers, ripping seams apart and starting over. Hmm…
Creating a quilt is a time-intensive project and artisans get little recognition until they sell or win awards. Sounds familiar?
Blurb from Too Many Women in the Room
When Gilda Greco invites her closest friends to a VIP dinner, she plans to share David Korba's signature dishes and launch their joint venture— Xenia, an innovative Greek restaurant near Sudbury, Ontario. Unknown to Gilda, David has also invited Michael Taylor, a lecherous photographer who has throughout the past three decades managed to annoy all the women in the room. One woman follows Michael to a deserted field for his midnight run and stabs him in the jugular.
Gilda's life is awash with complications as she wrestles with a certain detective's commitment issues and growing doubts about her risky investment in Xenia. Frustrated, Gilda launches her own investigation and uncovers decades-old secrets and resentments that have festered until they explode into untimely death. Can Gilda outwit a killer bent on killing again?
Excerpt
Carlo's hand caressed my thigh. More sex. The man could be insatiable. And it had been almost two weeks since our last romp. We started to kiss and then his cell phone vibrated.
Carlo groaned as he leaned over and picked up the phone. He sat up, his back to me. "What's happened?" he barked. Carlo's shoulders tensed. A long sigh and then his terse words. "Clear the perimeter, stat."
Clear the perimeter. My heart beat faster as I recalled the last time I had heard those dreaded words. It could mean only one thing. Another murder. Two murders in less than twenty-hours. What were the chances of that happening in Sudbury? At the Christmas party, the police chief had bragged about one of the lowest murder rates in Canada during the past twelve months.
I swallowed hard. "What's wrong?"
Carlo turned and gave me a long glance. "Andrew Frattini was found dead in the alleyway behind the ReCareering office."
The nightmare couldn't be starting again. This time with different players but still with the same intent. To pin the murder on me. But that strategy wouldn't work. I had an iron-clad alibi no one could refute.
Carlo dressed quickly. He picked up his phone and then turned toward me. "Stay clear of this, Gilda."
"How can I ignore it?" I said as I felt myself tearing up. "Someone's trying to frame me again."
He leaned over and kissed me. "Well, they didn't succeed, did they?"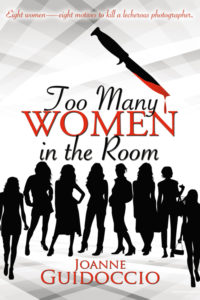 Book Trailer
https://www.youtube.com/watch?v=CORaCadAnbA
Buy Links
Amazon (US):  https://is.gd/NRjAXT
Amazon (Canada):  https://is.gd/1pX3Bn
Kobo:  https://is.gd/5VwbTf
Indigo:  https://is.gd/o3ZKRW
The Wild Rose Press:  https://is.gd/1mns8Q
Barnes & Noble:  https://is.gd/NFHdlS
Where to find Joanne…
Website: http://joanneguidoccio.com/
Twitter: https://twitter.com/joanneguidoccio
Facebook: https://www.facebook.com/authorjoanneguidoccio
LinkedIn: https://www.linkedin.com/in/joanneguidoccio
Pinterest: http://pinterest.com/jguidoccio/
Goodreads: https://www.goodreads.com/author/show/7277706.Joanne_Guidoccio
Giveaway:
Click on the Rafflecopter link below for your chance to win a $10 Amazon gift card.
https://www.rafflecopter.com/rafl/display/628069205/