Today my guest is Sharon St. George. She is the author of three previous books in the hospital-based Aimee Machado Mystery series. Spine Damage, the fourth book in the series, was released by Camel Press on May 15, 2017. The first book in this series, Due for Discard, will be reprinted as part of Harlequin's Worldwide Mystery series. Sharon is a member of Sisters in Crime, Sisters in Crime NorCal, and Mystery Writers of America. She serves as program director for Writers Forum, a nonprofit organization for writers in Northern California. She holds dual degrees in English and Theater Arts. Her website is www.sharonstgeorge.com.
Medicine, Mystery, and Fear of Flying
by Sharon St .George
I want my readers to enjoy my books, but I believe in following the maxim, First, do no harm. I don't want to terrify my readers, nor do I want them to read horrific descriptions of medical catastrophes or world-wide pandemics that would keep them awake at night in a cold sweat. More importantly, I don't want to spout incorrect medical information that readers might assume is accurate. I simply want to use a hospital library as a setting for my series, because that's the setting I know best.
Do you ever think about why we call medicine a practice? Why not a science? Surely, there is science involved. But the nature of scientific research can lead medicine to come up with one answer today, and the opposite advice tomorrow.
To make matters worse, the fate of our access to the health care industry is often at the mercy of our politicians' never-ending quest for votes. It leaves the average person's head spinning. So how do we protect our health, and at what cost?
These questions will remain in our everyday lives indefinitely, which is unfortunate for patients seeking answers. On the other hand, they provide a gold mine of potential topics for medical mystery novelists.
Back in the seventies, Robin Cook drew attention to the medical mystery genre with his best-selling book, Coma, which became a popular movie. From there, the medical mystery grew in popularity, with physician authors like Michael Crichton and Michael Palmer joining Cook on bestseller lists. They also saw their books adapted to the big screen. And on television we have Kathy Reichs, whose novels inspired Bones, and Tess Gerritsen's books, which led to the Rizzoli and Isles series.
Question: How can the medical mystery be written by an author without an MD or, like Dr. Reichs, a PhD in Physical Anthropology?
Answer: Very carefully.
There's a lot of truth to the saying that a little knowledge is a dangerous thing, and that is frequently demonstrated by authors who think they know more than they know, no matter what profession they portray. My own background taught me to stop short and do diligent research before putting any sort of medical information on the page.
I can't speak for anyone else, but here's how I do it. I had the advantage of working in medical offices and hospitals before I began writing medical mysteries. Another advantage was my experience working in two hospital libraries and one college library.
My heroine, Aimee Machado, is a medical librarian  who works in a hospital and specializes in forensic collections. Each victim in my series is either a doctor, a hospital employee, a patient, or someone with a close connection to one of those. There is always a patient, and even though the medical problem is interesting, and perhaps uncommon, it is not gory and horrific, or so rare as to defy diagnosis. The real detective work is not in diagnosing an illness, but in solving a crime that affects someone in my protagonist's orbit. Does the crime involve money? Passion? Revenge? A cover-up?
As a fringe benefit of writing a hospital setting, my hope is that readers will become more familiar with some of the behind-the-scenes work involved in keeping patients safe. I remember being surprised when I discovered that there is a real-life condition recognized as hospital phobia. It even has a medical name: nosocomephobia. The root of that word is nosocomial. Here's the Merriam-Webster definition: Nosocomial is a word that usually occurs in formal medical contexts; specifically, in reference to hospital-acquired sickness.
Obviously, patients don't want to leave the hospital with a problem they didn't have when they were admitted. Other hospital phobias include folks who can't visit a hospitalized loved-one for fear they'll acquire a ghastly infection or deadly disease merely by walking the halls and breathing the air.
Hospital-acquired sickness is possible, but the odds are against it. Sort of like fear of flying. And it's no accident that my protagonist's boyfriend, Nick Alexander, is a corporate pilot. That gives my readers an opportunity to face another common fear: aviophobia.
Aimee and Nick may fly across the state or half-way around the world to help solve a crime, but they will arrive safely at their destination. And despite the range of crimes or health crises my protagonist encounters, Timbergate Medical Center will make every effort to send its patients home with a good outcome.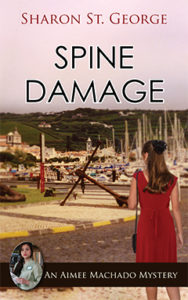 Spine Damage excerpt:
I strolled along the walkway leading to the main dock, hoping to look as if I belonged. When the couple ahead of me went through the security gate, I followed along behind them with a quick "Thanks," as if they'd saved me the trouble of using my own passkey. When they went one way, I went the other.
The harbor was large. It was going to take some time to walk all the docks, so I picked up my pace, passing the sailboats quickly and moving on toward the outer edges where the largest of the power cruisers were moored. Nothing I spotted fit Catia's description, although some of the yachts were twice the size of Buck's. I had stopped to admire one of them when I heard loud voices farther down the dock. Two men were shouting at each other in what sounded like a heated confrontation. They stood on a large power yacht moored at the far end of the dock.
I stepped away from the main walkway onto the narrower finger of dock that separated two adjacent boats. From there, I could listen without being seen. The voices rose. I could tell they were male, but I couldn't make out their words. A gusting wind had come up, causing the riggings of every sailboat in the harbor to jiggle and clank. I was about to step out from my hiding place when I felt the floating dock sway and caught the rhythmic beat of footsteps running in my direction. I edged farther back, away from the main dock.
I heard a loud report like a gunshot and saw a running man suddenly trip on a coil of rope and fall hard on the dock, just across from where I stood. Lying flat on his stomach, he turned his head toward me and our eyes met briefly. He looked young and scared. Blood trickled from his forehead.
I quickly hoisted myself up onto the nearest yacht, praying no one was on board. I dropped down and crouched in the cockpit, listening, straining to hear over the gusting wind and clanking riggings. I waited a few moments, but heard nothing more. I risked rising up slowly to take a look. The man lay still, eyes closed. No one else was around. As soon as I was sure it was safe, I would call 911 for medical help.
I ducked back down and listened intently for another two minutes. With my phone at the ready, I rose again and peeked at the spot where the victim had fallen.
No one was there.
Buy links:   The latest title in the Aimee Machaco Mystery series, Spine Damage, is now available for purchase from Amazon and Barnes and Noble. Or you can request it at a bookstore near you!