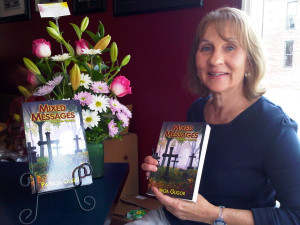 Pat Gligor, author of the Malone mysteries, launches the fourth book in the series this week.  I'm thrilled to feature her new book, Mistaken Identity on my blog this week.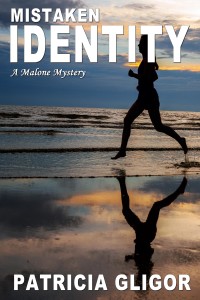 She is a Cincinnati native, and enjoys reading mystery/suspense novels, touring and photographing old houses and traveling. She has worked as an administrative assistant, the sole proprietor of a resume writing service and the manager of a sporting goods department but her passion has always been writing fiction. Ms. Gligor writes the Malone Mystery series. The first three books, Mixed Messages, Unfinished Business, and Desperate Deeds take place in Cincinnati but in Mistaken Identity, the fourth book, her characters are vacationing on Fripp Island in South Carolina.
Here's what Pat has to say about becoming an author.  Her words about her aha experience at a writers' conference may resonate with many of us.
My Path to becoming an Author
Ever since I was a little girl, I dreamed of being an author and I grew up with my own conception of what that meant. I could see myself surrounded by stacks of my mystery novel as I sat at a table at Border's bookstore, signing and selling copies of my book to the hundreds of people who were waiting in line. After spending several years writing my first novel, all I had to do (I thought) was to get an agent who would sell my book to one of the Big Name publishers and my career would skyrocket. I still can't believe how naïve I was.
Because the reality of being an author bears little resemblance to my preconceived notions. As everyone knows, there are no Border's bookstores anymore and it's very rare that a first-time novelist is able to find a reputable literary agent to represent them. Unless they know someone who knows someone. I didn't know anyone. I didn't know a lot of things. I didn't know that a writer needs to have an online presence before an agent or publisher will even look at their manuscript, that the first thing they do is Google a writer's name. (I had no online presence whatsoever.) You could fill a fifty gallon drum with the things I didn't know.
Then, I attended a writers' conference and listened to the various speakers talk about the world of publishing today. I began to realize that, for more years than I care to mention, I'd been going about things all wrong. So, I set up a Facebook page, created a blog, joined several online sites for writers and then I began to query small press publishers. I was thrilled when Mixed Messages, my first Malone mystery, found a home with Post Mortem Press and was published in trade paperback. (Very few small press publishers put out hardcover editions because of the costs.) Four years later, I'm still with PMP and Mistaken Identity, the fourth book in my series, was just released. And, every time I hold one of my books in my hands for the first time, it puts a big smile on my face.
Why? Because, although my path to becoming an author has been a long, rocky road filled with a lot of potholes and things didn't turn out exactly as I'd thought they would, I still have to pinch myself every time I realize that, yes, my dream has come true. I am an author!
Here's a bit about the book:
Ann feels like she's in Paradise as she digs her toes into the soft, white sand and gazes out at the ocean. She's looked forward to this trip to South Carolina for a long time and all she wants to do is bask in the sun, resting and relaxing.
She and her two young children are enjoying their time on Fripp Island with Ann's sister, Marnie, and Marnie's elderly friend and former neighbor, Clara Brunner, a long time resident with a vast knowledge of the island and the people who live there. At the fourth of July fireworks, Clara introduces them to newlyweds Jenny and Mark Hall and their families.
But Ann's plans for a peaceful vacation are shattered the next morning. When she goes for a solitary walk on the beach, she discovers the body of a young woman with the chain of a gold locket twisted around her neck and she immediately recognizes the locket as the one Jenny Hall was wearing the night before.
Shocked and saddened, Ann is determined to try to find the killer and to see them brought to justice. She convinces Marnie and Clara to join her in conducting an investigation but, in the process, she places her own life in jeopardy.
You can learn more about Pat on her website:
http://pat-writersforum.blogspot.com/
And be sure to get your copy of Mistaken Identity here:
http://www.barnesandnoble.com/s/patricia-gligor?keyword=patricia+gligor&store=book
http://postmortem-press.com
I'm looking forward to reading about Ann Malone and her family on vacation in South Carolina.  I lived in South Carolina way back when, so it's familiar territory to me.  Best of luck with the book, Pat.