Today we were digging up some bricks and stone pavers to put in new pavers.  Glenn was creating an area for me so I could have a potting table and some shelves.  A table is handy for transplanting so I don't have to bend over as much (yes, I am getting to be that age).  We'd removed a number of bricks and were about to begin on some old square slabs of stone.  When we turned over the first slab, we found it wasn't a stone paver at all, but a grave marker.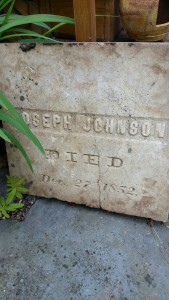 It reads, "Joseph Johnson. Died Dec 27, 1852."
It is clearly a grave marker and not a grave stone.  It is not broken, only a bit weathered, but probably less than it would have been if it was facing upward.
As you can guess, a number of possibilities crosssed our minds.
Did it mark a grave in our yard?  Maybe.  The death predates by twenty-two years the year our cottage was built .  It is located very close to the house, but face down and clearly used as a stepping stone.  The builder in 1874 would have noticed the paver.  Or maybe he put it there?  Or turned the marker over so he wouldn't have to be bothered with what it implied?
Did someone steal this marker from a cemetery to use as a stepping stone?  If so, when?  And from what cemetery?  Most of the villages around here have cemeteries that go back to the late 1700s. There's our village cemetery across the creek from our house.  It is old enough that the stone could have come from there, but it certainly didn't swim or float across the water.  Regardless of when it was taken, isn't that disrespectful?  And who was this thief?
Was this a disgarded or lost marker that has been replaced by another one?  Why would someone toss out a grave marker?
I know some of the people here in the village, but we have lived here only a few years, so I don't know many family histories.  I do know that the funeral home is run by the Johnson family.  Oh, oh.
The other stone slabs we turned over were not grave markers.  Before I panic and assume the worst, i.e, there is a body buried in my yard, I'm going to talk with my neighbor across the street who is a member of the cemetery board.  I'm just glad I didn't find this on Halloween.
I welcome your speculations.  I'll bet you have some good ones.
And don't forget.  My cottage is inhabited by a ghost, Fred, my literary muse.  So far he's been silent about this.  There sure is a lot of WooWoo stuff associated with this find.